Christmas in Baghdad sees mixed emotions
( 2003-12-24 17:13) (Agencies)
Buoyed by the capture of Saddam Hussein, U.S. troops began Christmas celebrations even as Iraqi Christians prepared for a low-key holiday ! many congregations delaying midnight services until daybreak amid worries of violence.
The holiday brings mixed feelings for Iraq's 700,000 Christians. There are prayers for a better future, but also some fears that if unrest continues, it could revive an exodus of Christians and other Iraqis.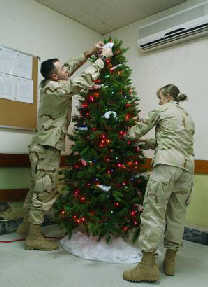 Two U.S. soldiers decorate Christmas tree at the 28th Combat Support Hospital in Baghdad, Iraq Dec. 22, 2003. [AP]

That flight, occurring during the crippling economic sanctions of the 1990s, saw the number of Christians decline from more than a million as many sought better lives in Europe and North America.

Getting into the spirit early, Iraqi children mobbed two American soldiers in Santa hats as they handed out stuffed animals Tuesday.

But not far away, Nadal Salman, 44, sat alone in an otherwise empty church, praying for peace. Before her was a large painted icon so weathered the image of the Virgin Mary holding baby Jesus could barely be seen.

The church is among those that will hold services Christmas morning instead of on Christmas Eve as customary. Worshippers have been told not to bring bags, for fear an attacker could slip past with a bomb.

"The situation is not normal; it's scary," Salman said, her face framed with a gold scarf. "But God is great and the Virgin Mary is with the Iraqi people."

Further dampening the holiday, she said, many families will not gather for big dinners to avoid having to return home on dangerous nighttime streets. Most Iraqi Christians belong to the Chaldean Church, an ancient eastern-rite Catholic church.

On military bases around Iraq, meanwhile, coalition troops were getting ready for brass bands, Turkey dinners, sports matches and holiday carols. David Letterman, host of CBS' Late Show, will visit troops in Baghdad on Christmas Eve.

The church is surrounded by the homes of thousands of Iraqis living on the edge of the walled compound in central Baghdad that houses the coalition's headquarters.

Spc. Chad Wilkerson, 23, of Clarksville, Tenn., swapped his camouflage battle helmet for a red Santa hat as he carried a box of stuffed animals from a muddy Humvee. Dozens of children living in drab, rundown high-rise apartment buildings ran up to him. Others sped up on bicycles.

The four boxes of toys and candy ! donated by a Christian radio station, WCIC in Peoria, Ill. ! were empty in minutes.

An 11-year-old boy, Fares Nadum, looked puzzled, then smiled as Wilkerson handed him a small, stuffed goat. Others in the crowd of mostly Muslims grabbed greedily at the box, and Wilkerson seemed to sympathize with their wants after years of hardship.

"They don't know how to handle generosity. They just attack," Wilkerson said of the children. He said some of the children living in the compound seem to be street orphans. "I pulled two kids out of the dumpster one night," he said.

"I don't know if they understand we are doing this for Christmas. But I hope the kids understand the spirit of Christmas and generosity."

Thunderous booms could be heard in the distance as the soldiers said goodbye to the crowd. They were apparently due to exploding artillery shells, routinely fired by U.S. troops as a show of force.

On a sidewalk in Baghdad, Jafer Nouri, 40, a Muslim, sold Christmas trees to Christians, reflecting generally good relations between the two religions in Iraq.

Another tree seller, Dana Nouzad, 32, lamented there were few customers because people "are not in the mood this year. They are concerned with other things."

For soldiers, the holiday is especially festive because it comes less than two weeks after the capture of Saddam.

The Army's 1st Battalion, 22nd Infantry took out a front-page advertisement in Tuesday editions of the local Arabic Azzaman newspaper that showed a mocking photo of the deposed Iraqi dictator with his beard whitened and wearing a Santa hat.

Near the western border with Syria, coalition troops dubbed an ongoing series of raids in the town of Rawah as "Operation Santa Claws."

North of Baghdad, in the city of Tikrit, soldiers from the U.S. Army's 4th Infantry Division ! which captured Saddam ! were planning brass band concerts and talent contests for Christmas.

Asked who received the best Christmas present, Sgt. Gilbert Nail from Fort Hood, Texas quipped, "Of course, Saddam. He received free food and boarding for the rest of his life."