Pentagon trumpets Saddam capture
( 2003-12-23 17:20) (Agencies)
The US Defense Department trumpeted the capture of Saddam Hussein by displaying the playing card depicting the Iraqi leader on its website with the word "captured" superimposed in big red letters.
Saddam was the ace of spades in the deck of cards of wanted Iraqi leaders released by the United States.
In addition to displaying the ace of spades playing card, the Pentagon web-site (www.defenselink.mil) carried a brief announcement of Saddam's capture.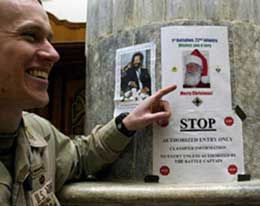 Captain Warner of the 1-22 Battalion of the U.S. Fourth Infantry Division smiles as he points at a Christmas card soldiers have made featuring the face of former Iraqi President Saddam Hussein manipulated to look like the head of Santa Claus, December 22, 2003. [Reuters]

"Saddam captured," it said. "Troops from the 4th Infantry Division's 1st Brigade Combat Team captured former Iraqi leader Saddam Hussein without incident Dec. 13. Saddam was found hiding in a storehouse at a remote farmhouse near Tikrit, Iraq."

The Saddam Santa card to celebrate Xmas

Christmas arrived early this year for some 30,000 US troops in Tikrit who caught Saddam Hussein near his home town a week ago, and how better to celebrate than with a captivating card?

The Saddam Santa card features a picture of the heavily bearded former dictator as he looked when he was pulled from his hiding hole last weekend, except Saddam is depicted in a Father Christmas hat and his whiskers are whiter than white.

The picture and others like it are springing up as decorations around the barracks of a US army unit in Iraq and have become popular as greeting cards.

"First Battalion, 22nd Infantry wishes you a very Merry Christmas!" reads the card which is also decorated with the battalion's insignia.

Pictures of Saddam taken after he was pulled out of a hole in the ground 15 km (nine miles) south of Tikrit drew criticism from the Vatican which said they were degrading, but have proven popular with US soldiers who regard him as an evil dictator.

"The fact that we have captured Saddam makes the ending of the year a lot better than the uncertainty of the beginning," said battalion commander Lieutenant Colonel Steven Russell, who sent one of the cards back home to Oklahoma.