Muslim women march against scarf ban
( 2003-12-22 14:09) (Agencies)
Thousands of people, mainly Muslim women shouting "The veil, my choice," marched through Paris on Sunday against presidential proposals to ban Islamic head scarves from public schools and maybe at work, too.
The protest, a cry of anguish from a rarely heard section of French society, was the first in Paris against President Jacques Chirac's announcement Wednesday that head scarves and other conspicuous religious symbols, including Jewish skullcaps and large Christian crosses, should be banned from schools to protect French secularism.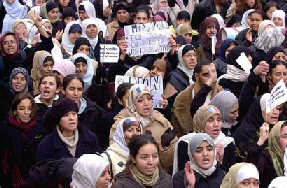 People demonstrate in Paris, Sunday, Dec. 21, 2003, to protest a planned law banning Islamic head scarves and other religious insignia in public schools. Poster reads 'My head scarf is my choice, my freedom, my reason for living.' [AP]

Chirac urged parliament to pass the law before the 2004-2005 school year starts in September. He also proposed giving company bosses the right to decide whether religious symbols can be worn at work and said a law should stop patients from refusing care from doctors of the opposite sex ¡ª aimed at Muslim women who have rebuffed male medical workers.

Paris police put the number of marchers at 3,000. More than half were women, girls and even young children wearing head scarves. They marched in a boisterous, flag-waving column hundreds of yards long through rain to the Place de la Bastille, where the prison stormed at the start of the French revolution in 1789 once stood.

Protesters said Chirac's proposed measures stigmatized France's estimated 5 million Muslims, the largest Muslim community in Western Europe, and made a mockery of cherished French values.

"Liberty, equality, fraternity ¡ª apart from women who wear the veil," said Fatima Boicha, a housewife and mother of two from a town west of Paris whose head and neck were covered with a brown scarf.

"The French state wants us to submit, to tell us what to wear and what not to wear," she added. "None of these women here will take their veils off."

Protesters sang the Marseillaise, the French national anthem, waved French tricolors ¡ª red, white and blue ¡ª and shouted "Beloved France, where is my liberty?" and other slogans. Some held their identity cards above their heads or pinned enlarged photocopies of their voter cards on their chests to show their French citizenship.

"Proud to be French Muslims," read one banner. "I vote!" said other placards.

In Germany, Chancellor Gerhard Schroeder said in comments published Sunday that headscarves have "no place" among public school teachers. But unlike Chirac, Schroeder said he could not prevent Muslim school girls from covering their heads in the classroom.

Debate over banning Muslim teachers from wearing headscarves has occupied Germany since its highest court ruled in September that teachers could wear them, unless states pass laws forbidding it.

Protesters said it was the first time Muslim women had marched en masse in the French capital, although newspapers said there were similar protests Saturday in Strasbourg in eastern France and in Avignon in the south.

Marchers said they were furious that a report commissioned by Chirac and released this month suggested that some Muslim women are forced to wear head scarves by male relatives or to avoid being insulted by men in public.

"Ni frere, ni mari, le foulard on l'a choisi," the demonstrators shouted in a rhyming slogan that means: "I chose the head scarf, not my brother or husband."

Some women said they would move their children from public to private schools where the ban would not be implemented if the law is passed.

Others accused the government of pandering to France's extreme-right National Front in targeting Muslims and of failing to evolve with a French society changed by decades of immigration from North Africa and elsewhere.

"We are being undressed. We have no more freedom," said Djamila Bekioui, who wore a head scarf in the colors of the French flag. "We feel that we are considered second-class citizens."