US warns of holiday terror threat
( 2003-12-22 09:19) (Agencies)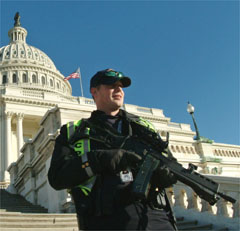 U.S. Officer Aaron Brodsky of the Capitol Police guards the Capitol Building in Washington, Sunday. [AP]
The U.S. government today raised the national threat level to orange, the second-highest, saying attacks were possible during the holidays and that threat indicators are "perhaps greater now than at any point" since Sept. 11, 2001.
Orange means a high risk of terrorist attack. Since May, the level had been at yellow, or an elevated risk, and in the middle of the five-colour scale.
"Extensive and considerable protections have been or soon will be in place all across the country," U.S. Homeland Security Secretary Tom Ridge said at a hastily arranged news conference. "Your government will stand at the ready 24 hours a day, seven days a week, to stop terrorism during the holiday season and beyond."
Ridge cited reports that Osama bin-Laden's terrorist network is trying find holes in U.S. aviation security, and that "extremists abroad" are anticipating attacks that will rival or exceed the scope of the Sept. 11 terrorist attacks.
The government elevated the threat level after U.S. intelligence agencies "received a substantial increase in the volume of threat-related intelligence reports," Ridge said.
"These credible sources suggest the possibility of attacks against the homeland around the holiday season and beyond," he said. "These strategic indicators, including Al Qaeda's continued desire to carry out attacks against our homeland, are perhaps greater now than at any point since Sept. 11."
A senior U.S. intelligence official said last week that analysts were particularly concerned about the threat of Sept. 11-style attacks, in which terrorists would use hijacked airliners as weapons.
Ridge said that "recent reporting reiterates that Al Qaeda continues to consider using aircraft as a weapon. They are evaluating procedures both here and abroad to find gaps in our security posture that can be exploited."
As a result of the change in threat level, all federal departments and agencies were putting in place action plans and stepping up security at airports, border crossing and ports, Ridge said.
He also sought to reassure Americans about the warning, and urged them to use common sense and report anything suspicious, such as packages, and to prepare or review personal emergency plans.
"We have not raised the threat level in this country for six months, but we have raised it before. And as before, Americans can be assured that we know what we must do and we are doing it," Ridge said.
He urged Americans not to disrupt holiday travel plans. "America is a country that will not be bent by terror. America is a country that will not be broken by fear," Ridge said.
He also said officials did not see a connection between the capture of ousted Iraqi leader Saddam Hussein and the heightened security alert.
The threat level was last raised to orange on May 5. Authorities reported at the time receiving general intelligence that pointed to possible terror attacks in the United States related to bombings in Saudi Arabia and Morocco that killed dozens of people. The threat level was returned to yellow 11 days later.
The lowest two levels, green and blue, and the highest, red, have not been used since the system was put in place in early 2002.
On Friday, the Arabic television network Al-Jazeera aired a new statement from Ayman al-Zawahri, the chief deputy of Osama bin Laden. The CIA said Saturday it believes the tape is authentic.
"We are still chasing the Americans and their allies everywhere, even in their homeland," said the voice on the tape.
Some statements from Al Qaeda leaders are later regarded as preludes to attacks; others simply propaganda.
U.S. Gen. Richard Myers, chairman of the Joint Chiefs of Staff, said Sunday morning that officials were trying to determine whether increased terrorist chatter being detected in recent weeks was an aberration or something more serious.
"There is no doubt, from all the intelligence we pick up from Al Qaeda, that they want to do away with our way of life," he told Fox News Sunday after his return from a trip to Iraq and Afghanistan.
"And if they could use another catastrophic event, a tragedy like 9-11; if they could do that again, if they could get their hands on weapons of mass destruction and make it 10,000 (deaths), not 3,000, they would do that."
Much of the threat information suggests attacks directed at U.S. interests in Saudi Arabia and Iraq, officials said last week.
"My guess is the government is taking this very seriously both in Saudi Arabia and here," U.S. Senator Richard Lugar, a Republican from Indiana who chairs the Senate Foreign Relations Committee, told CNN's Late Edition shortly before Ridge's announcement.
The U.S. State Department last week recommended that its nonessential diplomatic personnel as well as diplomatic families leave the Saudi kingdom.