Boeing in talks to sell new jetliners
( 2003-12-22 09:07) (China Daily HK Edition)
Boeing Co said it has held talks with two of Asia's biggest carriers about ordering its 7E7 airplane, the company's first new jetliner in 13 years, and may sign up a customer next year.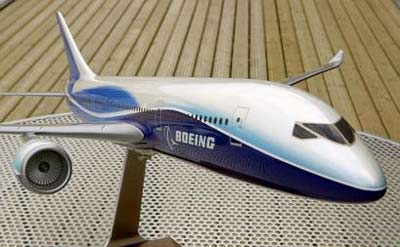 A model of the Boeing 7E7 dreamliner jet is displayed at the Paris Air Show at Le Bourget airport, June 18, 2003. [AP Photo]

Singapore Airlines Ltd and Cathay Pacific Airways Ltd Are among airlines in "Detailed conversations" concerning the 7E7, Mike Bair, Boeing's senior vice-president for the programme, said on a conference call after the company's board decided to offer the plane on December 16.

Boeing, which analysts estimate will need about US$5 billion to build the 7E7, will have to sign up a sufficient number of orders from global carriers before the company's board lets it move ahead with production. The 7E7 will challenge the A330 made by Boeing's only direct competitor, Airbus SAS.

"It's an absolutely essential step on Boeing's part," said Dan Solon, an analyst at Avmark International from Barcelona. "It has a product line that's been aging compared with the equivalent-sized Airbus aircraft."

Chicago-based Boeing, the world's largest aircraft maker, needs the 7E7 to help it catch up with Toulouse, France-based Airbus, which will surpass Boeing in deliveries this year. The 7E7 Dreamliner is a 200- to 300-seat plane that would use at least 15 per cent less fuel than comparable jets.

Airbus last Wednesday said it won a firm order from Qantas Airways Ltd's Jetstar discount airline for 20 A320 planes worth about US$1 billion, making inroads into a carrier that used to operate an all-Boeing fleet. Airbus said Boeing is overestimating the potential market for the 7E7 and that it is not planning a response because it already has a plane that is more economical.

Efficiency

Boeing expects carriers around the world to replace their larger planes with smaller, more efficient aircraft, helping cut back on fuel bills, the second-highest cost for airlines after wages.

Fact file on the Boeing 7E7 'Dreamliner'. [AFP]
Airbus is banking on larger aircraft. It is developing the 555-passenger A380, which will be the biggest commercial aircraft in service when deliveries start in 2006. Boeing is unlikely to reach its goal of selling as many as 2,500 7E7 planes because the Airbus A330-200 model is more economical, said John Leahy, Airbus's chief commercial officer.
Leahy, in an interview, estimated that Boeing and Airbus would evenly split total demand for 1,800 planes in the 200- to 250-seat category over the next two decades.
The A330-200 lists for as much as US$132 million. The 7E7's sale price has not been disclosed.
Different versions
Boeing must reach an agreement with its first 7E7 customer next year, allowing the company's engineers to begin detailed designs of the aircraft in early 2005, Bair said.
Boeing hopes to sell 1,000 of its basic model 7E7, with a range of 5,573 kilometres, and another 1,000 of a stretch model with greater range, planned for 2010. It also plans to produce a version that can fly as far as 2,174 kilometres.
Japan Airlines
Japan Airlines System Corp, the world's second-largest carrier and the biggest operator of Boeing 747s and 767s, will not be among the first 7E7 customers because it is focusing on cutting debt, said Katsuo Haneda, head of one of the airline's units.
"Fixing our finances is the priority right now," Haneda, the president of Japan Airlines Co, said in an interview. The carrier wants to wait before considering proposals from both Boeing and Airbus to replace older aircraft.
Japan Airlines was seen by analysts as a likely launch customer for the 7E7 because of the makeup of its existing fleet and relationship with Boeing.
Cathay, Hong Kong's biggest airline, operates a fleet of 83 aircraft including the Boeing 747 and 777 and the Airbus A330 and A340 airplanes.
Singapore Airlines Ltd, the world's No 2 carrier by market value, operates 96 passenger jetliners with 23 more on order. It will be the first airline in the world to operate the double-decker A380 in 2006.
Airbus
The 7E7 would be Boeing's first all new jetliner since the 777 programme was launched 13 years ago. Airbus is outpacing Boeing in orders this year partly because it has newer aircraft models that are more versatile for flight crews and mechanics.
Boeing's commercial airplane sales fell 25 per cent to US$16.6 billion in the first nine months of 2003 from a year ago.
The 7E7 likely will eventually replace the 767. Boeing plans to stop making the 757 next year and wants the 7E7 design to be the basis for more efficient versions of the 747 and the 737.
The 737, the world's most popular aircraft, is used by discount carriers such as Southwest Airlines Co And Ryanair Holdings Plc.