Libya to allow snap UN arms inspections
( 2003-12-22 08:59) (Agencies)
Libya has agreed to allow snap U.N. nuclear arms inspections, just a day after declaring it was giving up plans to build an atomic bomb, a Western diplomat said on Sunday.
Libya, widely praised for announcing on Friday that it was ditching efforts to build the bomb and other banned weapons, told the head of the U.N. nuclear watchdog on Saturday it was ready to sign up to inspections, the diplomat told Reuters.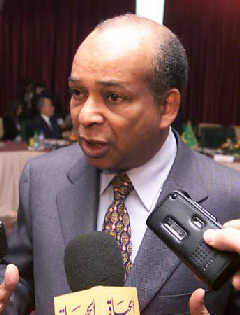 Libya's Foreign Minister Mohamed Abderrhmane Chalgam speaks to reporters at the Arab Maghreb Union countries Foreign Ministers meeting, in Algiers, December 21, 2003. [Reuters]

The surprise moves, which could lead to the end of U.S. sanctions and the return of U.S. oil companies, mark an about-face for Muammar Gaddafi, Libyan leader for 34 years.

"We are turning our swords into ploughshares and this step should be appreciated and followed by all other countries," Libyan Prime Minister Shokri Ghanem said of Friday's statement, adding that economic progress was more important than arms.

But Britain, which played a key role in talks that persuaded Tripoli to abandon its arms ambitions, said the fate that befell Iraqi leader Saddam Hussein, who was ousted in April by U.S.-led forces, may have prompted the move.

"We showed after Saddam Hussein failed to cooperate with the United Nations that we meant business and Libya, and I hope other countries, will draw that lesson," Defense Secretary Geoff Hoon told Sky television.

U.S. intelligence officials said Gaddafi seemed the driving force behind Libya's decision and his motivation may have ranged from concerns about the Iraq war and a desire to end isolation to concerns about domestic threats to his own rule.

LIBYA COMPLIES

Tripoli acted swiftly to show it was serious.

A top official met the head of the International Atomic Energy Agency (IAEA) in Vienna on Saturday to discuss its proposals to accept stricter IAEA nuclear safeguards.

The Vienna-based Western diplomat said Libya told Mohammed ElBaradei it would open its atomic facilities to unannounced inspections, a deal going beyond the basic demands of the main nuclear arms control treaty.

Libya is a signatory to the nuclear Non-Proliferation Treaty, allowing limited IAEA inspections, but said it was now willing to sign the treaty's Additional Protocol, which allows far more intrusive checks. Iran signed it on Thursday after pressure from Washington over an alleged arms program.

"The Libyans confirmed they want to sign the Additional Protocol in their meeting with ElBaradei," said the diplomat.

Libyan Foreign Minister Mohamed Abderrhmane Chalgam said in Algiers: "Our delegation is still in negotiations in Vienna."

The separate Organization for the Prohibition of Chemical Weapons said Libya would have to adopt the Chemical Weapons Convention before inspections for such arms could be made.

THAW WITH WEST

Libya was freed of broader U.N. sanctions this year after accepting responsibility for the December 21, 1988, downing of a U.S. airliner over Lockerbie, Scotland, killing 270 people.

Washington left its sanctions in place, accusing Tripoli of seeking biological and chemical arms.

Some U.S. officials said at the weekend it was too early to say when, or if, the United States would lift its embargo.

French Foreign Minister Dominique de Villepin called on the international community to help pressure Libya to conclude talks on compensating families of victims of a French airliner bombing in 1989, saying the Libyan arms deal "creates a new context."

"The discussions under way have allowed significant progress, including in these last few days. We therefore hope a definitive settlement can be reached in the next few weeks (on the UTA bombing case)," he told the French daily newspaper Le Figaro in an interview due to be published on Monday.

Tripoli's announcement on Friday was the culmination of secret negotiations with Britain and the United States launched at about the time of the Iraq invasion in March.

U.S. President Bush said he hoped others would follow Gaddafi's example.

The head of the Arab League said Israel, widely believed to have a nuclear weapons capability, should do the same as Libya.

Gaddafi was vilified by the United States over the last two decades. In the 1980s, U.S. planes bombed Tripoli, killing Gaddafi's infant daughter, in retaliation for the bombing of a West Berlin nightclub frequented by U.S. soldiers.