Judge grants Hinckley unsupervised visits
( 2003-12-18 09:13) (Agencies)
John Hinckley Jr., the man who tried to assassinate President Reagan in 1981, will be allowed to make unsupervised visits with his parents away from the mental hospital where he lives, a US federal judge decided Wednesday.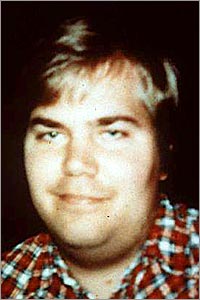 John Hinckley Jr. [AP Photo]


Hinckley's lawyers had argued that psychiatrists favored the idea. But government attorneys said Hinckley is still dangerous -- and that he's been trying to fool his doctors.

US District Judge Paul L. Friedman issued the order granting Hinckley's request.

Hinckley, 48, has lived at St. Elizabeths Hospital in Washington since he was acquitted in 1982 by reason of insanity in the shootings of Reagan, presidential press secretary James Brady and two law enforcement officers. Reagan was nearly killed and Brady was permanently disabled. Hinckley said he shot Reagan to impress actress Jodie Foster.

Friedman attached a number of strict conditions and rejected Hinckley's request to travel to his parents' home in Williamsburg, Virginia, about three hours south of Washington.

He said a detailed schedule must be submitted to him two weeks before each unsupervised visit. Hinckley must remain under his parents' constant supervision when he's away from the hospital and may not talk to the media or his former girlfriend, Leslie DeVeau.

Hinckley is allowed six day visits within a 50-mile radius of Washington, D.C., and two 32-hour visits within a 50-mile radius of the city.

He and his family must maintain telephone contact with St. Elizabeths at least once a day during each visit. If there are any signs of deterioration in his mental condition he must return to the hospital, the judge said.

During five days of hearings, psychiatrists testifying for Hinckley, the government and the hospital said his mental health had improved to the point where he would not be a threat to himself or others if he were to leave the hospital for visits with his parents.

But government lawyers opposed the request, insisting that the would-be assassin was still dangerous and trying to deceive his doctors.

Former first lady Nancy Reagan said she and her family were disappointed by the ruling.

"Although the judge limited Mr. Hinckley's travel to the Washington, D.C., area, we continue to fear for the safety of the general public," she said in a statement. "Our thoughts are with all of Mr. Hinckley's victims today, especially Jim Brady and his family, as they must continue to live with the tragic consequences of the assassination attempt."

Hospital officials have said there have been no problems with Hinckley on his supervised trips to such places as a bowling alley, the theater and a shopping mall. The Secret Service watches Hinckley whenever he leaves the hospital grounds.

The psychiatrists said allowing Hinckley to leave unsupervised was the next step in his recovery from his mental illness.

Reagan's family and Brady's wife, Sarah Brady, have opposed Hinckley's request.

Sarah Brady sent a letter to the judge. Reagan's children, Patti Davis and Ron Reagan Jr., made their opposition known in the media.