Singapore quarantines 70 over SARS fears
( 2003-12-18 09:06) (Agencies)
Singapore's health ministry has ordered 70 people who possibly came into contact with a Taiwanese SARS patient to be quarantined.
It announced the move Wednesday after Taiwan authorities confirmed that the Taipei researcher who traveled to Singapore earlier this month had tested positive for the lethal respiratory disease.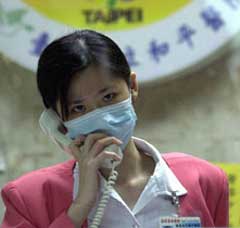 Taipei's Hoping Hospital staff answers non-stop phone calls after a man infected with SARS was brought to the hospital earlier in the morning, Dec. 17, 2003, in Taipei.[AP]

Officials urged Singapore's hospitals to increase vigilance but said there was no sign of new cases of Severe Acute Respiratory Syndrome in the country.

It said the 70 could have been exposed to SARS through contact with the 44-year-old man when he visited Singapore for a medical conference between December 7 and 10.

Those who may have come into contact with him must stay at home until December 19 -- the length of the incubation period of SARS -- and will be monitored by telephone, the ministry's statement said.

The Taipei man is the second person to catch SARS since the World Health Organization (WHO) declared the outbreak over in July.

He showed no signs of a fever when his temperature was checked at the airport in the afternoon, but he became sick later in the evening, according to Taiwan's Center for Disease Control (CDC).

The researcher immediately quarantined himself at home, and there seemed to be little risk of infecting the public, Chen said according to the Associated Press.

Chen said passengers on the China Airlines flight on which he traveled should not be alarmed because SARS is not believed to be contagious until the onset of a fever.

Singapore, which has taken stringent precautions to avoid a recurrence of the disease, was quick to clarify there were no signs of SARS cases or infections, according to Reuters reports.

Nevertheless, stocks in Taiwan fell as much as two per cent on the news, and Singapore shares dipped by about one per cent.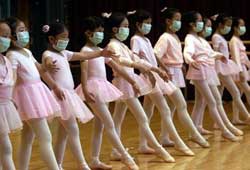 Children taking a ballet class in Hong Kong wear masks to protect themselves from severe acute respiratory syndrome, SARS in this April 27, 2003 file photo. [AP]

'Hurrying to complete experiment'
Since developing a fever on December 10, none of the researcher's relatives or colleagues has developed SARS symptoms, Chen said.
The man's wife, two children and father have been quarantined at home, the CDC said. Six colleagues who went to Singapore with the researcher have also been quarantined at home.
Health officials said on Wednesday the worker has been transferred to Taipei's Municipal Hoping Hospital, where he is in stable condition and having no trouble breathing.
All Taiwanese laboratories researching SARS have been closed, CDC chief Su Ih-jen said, and officials suspect the worker became infected in his lab.
"The patient had an accident in his lab on December 5 because he was hurrying to complete an experiment before going to Singapore," Su said.
Taiwan had an outbreak of SARS this year, with 674 cases and 84 deaths, but no new cases were reported after June.
SARS killed more than 800 people in nearly 30 nations, and authorities have warned there could be a resurgence of the virus in the Northern Hemisphere winter.