Now Saddam is captured, where's bin Laden?
( 2003-12-17 14:11) (Agencies)
Now that Saddam Hussein has been caught, the pressure is on to find the other top target in the war on terror. Why is it proving so hard to find Osama bin Laden?
U.S. President George W. Bush said the United States would eventually capture the elusive al-Qaeda leader Osama bin Laden, following the dramatic capture of Saddam Hussein.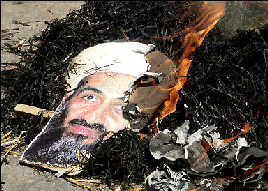 A portrait of Saudi dissident Osama bin Laden burns after protestors set alight his effigy during a protest against terrorism. [AFP/File]

"We're on his trail, too," Bush told ABC television Tuesday in his first interview since Saddam's capture at the weekend. "He's probably in a hole somewhere hiding from justice."

"Bin Laden's on the run," Bush said. "The leader of the al- Qaeda terror network will face a similar fate as that of the deposed Iraqi president."

"All I can say, he's certainly not leading any parades these days," Bush also said, referring to bin Laden. "He's probably in a hole somewhere hiding from justice. We'll get him dead or alive."

Thousands of US troops and special intelligence agents have been searching for the al-Qaeda chief since he escaped the US bombing offensive in Tora Bora, southeastern Afghanistan, in November 2001. Their search is concentrated mainly along the 2,450-kilometre (1,520-mile) Afghan-Pakistan border.

The border is a remote region that winds through some of the world's most inhospitable terrain, criss-crossing the Hindu Kush mountain range.

The last time the U.S. military believed it knew exactly where bin Laden was hiding was two years ago, when it bombed the mountains of Tora Bora, Afghanistan.

The most recent American intelligence puts bin Laden somewhere in, or near, the mountains in the Pakistani province of Waziristan.

The region's rugged terrain, which ABC telebision visited earlier this year, is home to fiercely independent tribes hostile to the Pakistani government or any other outside force.

The tribes and the terrain make the search for Saddam Hussein seem easy in comparison, says Akbar Ahmed, a former official in Waziristan.

"(There are) formidable fighting tribesmen who resent any outsider coming into the area," said Ahmed, who is now a professor of International Relations at American University in Washington, D.C. "Osama, if he's there, would be there as a guest. And the code of the people there is that if a guest is living there they will protect him with their lives."

Pakistan does not allow U.S. forces to operate in Waziristan, so American troops or operatives are unable to go into the marketplaces where money handlers and merchants might provide the kind of clues that led to Saddam Hussein's hideout in Iraq.

"We have to work through the Pakistanis," said Richard Clarke, a national security adviser at the White House before retiring earlier this year, "and in Pakistan there are vast areas that are hostile to even the Pakistanis. So it's very, very difficult to do the kind of controlled search we did in Iraq."