Chinese women's football team gets new coach
( 2003-12-17 09:29) (China Daily by Chen Xiangfeng)
Days of rumours and speculation on the replacement coach for the Chinese Women's football team were brought to an end when Xue Li, vice-president of the Chinese Football Association (CFA) announced that Zhang Haitao would take on the job as of December 14th, in Yiwu, in East China's Zhejiang Province.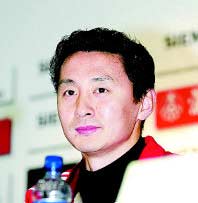 Regarded as a key part of reforms and reshuffles following the women's team's devastating elimination from the quarter-final in the 2003 World Cup, 33-year-old Zhang, together with a brand new coaching team, was selected to replace Ma Liangxing.
Ma, dubbed "Xiao Ma (little horse)" by the Chinese press, took over after former boss Ma Yuan'an, "Lao Ma (old horse)," quit in early 2001. But he had to struggle right from the very beginning, as the top players in the best-ever runners-up team at the 1999 world cup, headed by captain Sun Wen, FIFA Women's Player of the Century, had begun to decline in form because of increasing age.
Under Ma Liangxing, the 7-times Asian champions lost the title for the first time in the 2002 Asian games in Busan, while DPR Korea became a strong and rising challenger, beating China in Busan and at the last Asian Women's championship in Bangkok.
So coach Zhang faces a tough job ahead if he is to regain top place in Asia, and re-establish the the team's old form.
The first and also the most important task he has to achieve is to steer China into the 2004 Athens Olympics via the Asian Olympics Qualifying round, although things have become a bit easy for him now that the Asian Football Confederation (AFC) has passed China's proposal of dividing the group according to the seeds' rankings, which means China will avoid arch-rival Democratic People's Republic of Korea in the group competitions.
But Zhang appears to be very confident.
When asked how he could make players believe in him due to his seemingly limited related coaching experiences: He has never coached a women's team nor a men's first line team. But the rookie coach has a dialectic view of his role.
"Everything goes by its own rules. Football is the same. I am sure I will do a good job and win trust from players."
"My age is not a problem. Youth means a lack of experience, but it gives me will and confidence to innovate and reform," said Zhang, who used to be a coach of the men's youth team of the Shandong Luneng club and instructed players like national team member Zhou Haibing and Olympics team member Jiao Zhe.
His determination to innovate can be seen in the newly assembled 29-member team.
Zhang chose to keep only three players from the world cup lineup in the new team, whose average age is 5 years lower than the preceding team led by Ma.
Previous stalwarts like Liu Ying, Sun Wen and Bai Jie are all absent from the youngster-dominated list.
"Veterans are valuable treasure for a young team. But from the long-term view, an change is necessary and inevitable,"said Zhang.
The young coach also doesn't care too much about China's evasion with DPRK in the Olympic qualifying round.
"I think it is premature to congratulate us, but I believe it will not take too much time to beat them as long as we are well prepared and have an adjustable training schedule."
Although Zhang followed recommendations in selecting his provisional team, he still clings to his own criteria for selection and training.
"Women's football is developing as rapidly as men's. It has been accepted worldwide that women's teams adopt men's training modes. To rehabilitate our women's team, we have to follow the trends," said Zhang.
"I will take age, physical stature and strength as my initial guiding criteria."
"My target is to lead China to the top of the world," he added.
Reshuffle and reform
Chinese women's football team's Bai Jie was named as the 2003 Asia's Women's Player of the Year on December 10th, a comfort after a disappointing year but not enough to bring more excitement and pride to the fans and officials.
Emerging power DPR Korea grabbed the Best Women's Team award from China's hands.
Since the women's football team was surprisingly knocked out of the quarter finals at the 2003 World Cup in the United States, defeated 1-0 by underdog Canada, the team has been under great pressure from the critics and disappointed fans.
In response to the setback, a series of measures have been taken in an attempt to revive the past glory, highlighted by the 1999 World Cup, in which China regretfully missed getting the cup in a penalty decision final against the United States.
Xue Li began to take charge of the women's football department of the CFA after a reshuffle on the top leaders, a move that means more attention will be paid to the development of women's football.
Moreover, rules guiding development of players at the grassroots level, youth development, and taking on foreign players have been set on paper and will be acted on soon.