Friendly ties help 'cause of peace'
( 2003-12-17 01:06) (China Daily)
Israeli President Moshe Katsav said that his country appreciated the support and efforts of China in the Middle East peace process and hoped China would use its influence to make further contributions.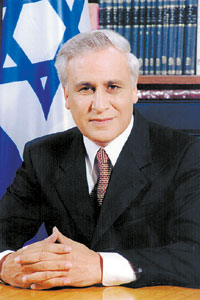 Israeli President Moshe Katsav said Israel appreciated the support and efforts of China in the Middle East peace process. [newsphoto.com.cn]

"We are happy that China enjoys good relations with many of the Arab states, and the Palestians -- this friendship of China with both sides can only be helpful in advancing the cause of peace,'' Katsav said in an exclusive interview with China Daily.

"I remain optimistic about the peace process because I believe it is in the fundamental mutual interest of both the Israeli and Palestinian people that we live in peace, and that we reach a fair and lasting peace agreement.''

Coinciding with Katsav's visit, the United Nations Meeting for Asia and the Pacific on the Question of Palestine opened yesterday in Beijing.

China, a permanent member of the United Nations's Security Council, has repeatedly expressed that it hopes both Israel and Palestine can reach an agreement with a flexible and pragmatic attitude.

China is willing to develop its friendly, cooperative ties with all Mideast countries, including Israel, Foreign Ministry spokesman Liu Jianchao said last week.

No one side in the conflict is expected to gain one hundred per cent of its demands and that's why realizing a just and lasting peace requires courage and wisdom from leaders, especially the willingness to make painful compromises, said Gong Shaopeng, a Middle East studies expert with Foreign Affairs College.

Katsav arrived in Beijing yesterday after a three-day visit to Hong Kong. Today, he will go to suburban areas to visit Israel-China co-operative agricultural installations. On Thursday he is scheduled to hold talks with Chinese officials on bilateral relations, Middle East peace, the threat of international terror and other common issues.

It is the first state visit of an Israeli president to China in five years, although the 58-year-old Iranian-born Jewish President had been twice previously, once on a private visit, and once as a member of parliament.

The president said he regarded himself as one of China's best friends, and said he is astonished by China's recent dramatic developments.

"China and Israel are enjoying rapid growth in bilateral trade despite the global downturn in economic activity,'' said Katsav, who was once chairman of the Israel-China Friendship Committee in the Israeli parliament.

"Both countries aspire to develop along modern lines through extensive use of high technology,'' he said.

To highlight the possibilities for high- tech co-operation, Katsav is joined on this visit by the President of the Israel Academy of Sciences Jacob Ziv, the General Director of the Israeli Industrialist Union Yoram Blizovski and the Chairman of the Israel Export Institute Shraga Brosh.

Nearly two years ago, such co-operation hit a roadblock after Israel backtracked on a deal to sell the Phalcon advanced airborne radar system to China.

The deal for the sophisticated surveillance system was aborted because of pressure from the United States, which was concerned the aircraft would be used against Taiwan.

Beijing has said that the incident damaged relations between the two countries, noting that Israel had to take steps to correct the situation.

Observers see Katsav's visit as an improvement in Israeli-Chinese relations. "It demonstrates Israel's desire to improve relations with China,'' said Gong.