Delighted Zidane happy to beat Ronaldo to top award
( 2003-12-16 09:21) (Agencies)
Zinedine Zidane grinned with pleasure on Monday as he accepted his award as FIFA's World Player of 2003 - and said he was delighted to have taken the prize off his Real Madrid team-mate Ronaldo.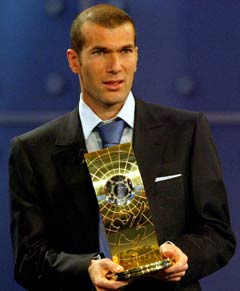 The Frenchman and the Brazilian are now level in the record books with three wins each in the 13-year-history of this prestigious prize, awarded this year in front of a television studio audience in an exhibition hall in Basel.
"This is a prize that is very special and it feels better every time you win it," said Zidane. "I am very happy to have won it this time and especially to have beaten my friend Ronaldo - especially as he is much younger than me."
Zidane is 31 and Ronaldo, who came third, only 27, while the man who finished as runner-up to 'Zizou' this year, Thierry Henry of France and Arsenal, is 26.
"He is a fantastic player and he will do great things in future," said Zidane, of the highly-rated Henry.
Ronaldo, who starred in Brazil's World Cup winning team last year and won the award for the third time when it was awarded to him in Madrid, said: "I am happy to be here - but third is not the same as first, is it? I would prefer to have won it, but I am happy for Zidane."
Zidane has now won the FIFA World Player award three times in six years. He has lifted the prize in 1998, following France's World Cup triumph, in 2000, after they won the European Championship, and again in 2003.
Ronaldo won the award in 1996, 1997 and 2002.
Henry was widely favoured to win and become the first player from an English club to lift the award since it was inaugurated in 1991 when Germany's Lothar Matthaeus was the first winner.
He picked up 186 points from the votes of the 142 national team coaches, 21 picking him in first place, and 22 in second, while Zidane had 35 coaches votes in first place and 27 in second. Ronaldo was given 26 first-place votes, but only 11 for second.
The points system was five for first place, three for second and one for third and in the final totals Zidane had 264, Henry had 186 and Ronaldo 176.
PROUD HENRY
Asked if he felt disappointed, Henry said: "Yes and no - I am proud to be here and be with these great players and that is very good. Of course, I thought about winning, beforehand, but now I have decided this is just the beginning and I will be back."
Henry, for whom Arsenal rejected a reported offer of 50 million pounds last week from Chelsea and in whom Real Madrid president Florentino Perez has expressed strong interest, said he was very happy to stay with Arsenal "for as long as they want me."
In the voting details released by FIFA, it was revealed that Brazil coach Carlos Alberto Parreria voted for Van Nistelrooy, England's Sven-Goran Eriksson voted for Roberto Carlos, France's Jacques Santini voted for Paolo Maldini, Germany's Rudi Voeller voted for Pavel Nedved, Italy's Giovanni Trapattoni vogted for Roberto Carlos and Spain's Ignacio Saez Ruez voted for Zidane.
Nedved of the Czech Republic and Juventus was fourth with 158 points and Roberto Carlos of Brazil and Real Madrid fifth with 105.
Van Nistelrooy of Manchester United and the Netherlands was sixth and David Beckham of Real Madrid and England was seventh ahead of his club-mate Spaniard Raul and Italian Paolo Maldini who captained AC Milan to their European Cup triumph this year.
The winner of the FIFA women's world player of the year was Birgit Prinz of Germany, top scorer for the World Cup winning German team ain the United States.
In the remaining awards, Brazil won the FIFA/Coca Cola world ranking top team for 2003, Bahrain won world ranking best mover, Celtic's supporters won the FIFA Fair Play award for their exemplary behaviour at the UEFA Cup final in Sevilla and the Iraqi football community won the FIFA Presidential Award.