Power shortages darken Southern China
( 2003-12-14 11:01) (Agencies)
Residents of southern Chinese city of Changsha spend one day of every four without power. Coal is growing scarcer. Electric heaters have been banned and sales of generators have quadrupled. For the capital of the Chinese province where Mao Zedong was born, these are dark days.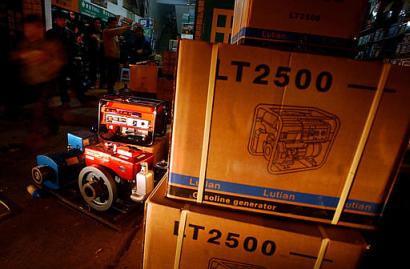 Generators are shown on sale at an electricity-restricted area Thursday evening, Dec. 11, 2003 in Changsha, Hunan Province, 723 miles southwest of Shanghai, China. Residents of Changsha spend one day of every four without power. [AP]

A spike in demand for electricity, fed by a booming economy, is outstripping supply in parts of southern China ¡ª a power crunch the government worries could hamper the development so pivotal to its efforts to lift millions of Chinese out of poverty.

"I sometimes have to light candles to see my homework," said Li Li, a fourth grade girl whose family lives in a block of 1950s-era apartments. "It's really inconvenient. How could it not be?"

Droughts have greatly reduced output in the hydroelectric plants that provide much of the region's electricity. Coal for thermal plants is in tight supply everywhere, while areas that usually buy wattage on the open market are finding competition tight and prices high. Stores say sales have dropped due to power cuts, and industries are predicting a fall in output.

Nationwide, 21 regions have instituted some form of limits on power consumption this year.

Other parts of the south also have rolling blackouts. Some cities are trying to avoid them by darkening advertising signs, turning down heat in shopping centers and encouraging factories to operate during off-peak hours. This week, factories in Shanghai were ordered to shut down one day a week because of power shortages.

Part of the conundrum comes from the top. Central government funding of the national power grid, measured as a percentage of total infrastructure investment, fell from 12.9 percent 15 years ago to just 6.9 percent in 2001.

"The problem ... is the contradiction between economic growth on an uncommon scale and insufficient electrical development," Ouyang Wei, a provincial economic official, was quoted as saying in Changsha's Xiaoxiang Morning Herald.

Planners say it could be years before supply catches up with demand. Until then, millions will be coping with life without lights, at least part of the time.

The cuts have been most visible in Changsha, the capital of inland Hunan province, not far from the birthplace of Mao, communist China's founder.

Like urban areas everywhere in China, this bustling city of 2 million has undergone a wave of construction and industrial investment in recent years. Old homes where coal or wood was burned for light, heat and cooking have given way to 25-story apartment buildings.

Hunan gets 55 percent of its electricity from hydropower ¡ª a figure far above the national average ¡ª and water shortages this year have been so severe that brief rainfall can make a big difference.

Wet weather earlier this week meant most Changsha residents had uninterrupted power through Thursday, though street lights were off and large parts of the industrial suburbs were darkened.

Under rolling blackouts, residents go one day in four without power during peak hours between 8 a.m. and 6 p.m. City media announce cuts the day before, allowing residents to stock up on provisions.

Even when power is on, shops, homes and offices are forbidden to run electric heaters under threat of $2,400 fines. Sales of portable generators have quadrupled.

"It's tough. But we understand the situation, and no one wants to make trouble for the government," said a member of the Dongtang district Neighborhood Committee responsible for checking on heaters. She gave only her surname, Wang.

Qi Mingjun, head of the Changsha Power Bureau, says the policy aims to guarantee all residential areas receive some power. "At the current stage," Qi said, "it seems we're still able to meet this target." Unscheduled cuts are common, however. Power often flips off shortly after 9 p.m.

"I worry about taking the elevator," said Miss Sun, a maid at the downtown-area Tongcheng Hotel. "Who can say when the power will cut off and I'll be trapped?"

Like many businesses, Sun's hotel has purchased gasoline or diesel generators that kick in seconds after power cuts. During dark days, scores of the boxy, roaring contraptions are set out on the sidewalks in front of small shops.

Spared the blackouts are key government offices, hospitals, schools and military installations. For others, keeping the lights on can be a matter of luck.

"We're on the same line as the Railway Bureau, so we never have our power cut during the day," said Miss Xu, a receptionist at the Golden Sky Internet Cafe.

Down the street, the Great China Dance Hall was locked, "in cooperation with power rationing requirements," according to a sign that invited those with "leisure needs" onto a free minibus to another hall across town.

Officials expect to see growth in power demand peak over the next three years. By 2006, supply should about catch up, they say. In the meantime, retired textile worker Ren Lisan, 77, isn't overly concerned.

"Who needs electricity in your home?" said Ren, strolling in a lakeside park. "We survived without it when we were kids."