Price index rises to six-year high
( 2003-12-12 23:43) (China Daily)
China's consumer prices rose 3 per cent in November, compared with last year at the same time, because of surging food prices, the National Bureau of Statistics said on Friday.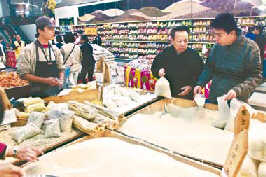 Customers buy rice at a supermarket in Beijing. Experts warn that a possible grain shortage is looming if no immediate action is taken to increase the acreage. [newsphoto.com.cn/file]

November's jump in the consumer price index (CPI) -- the key inflation gauge used by policymakers -- was the highest monthly rate seen since April 1997, when CPI rose 3.2 per cent year-on-year.

Urban consumer prices increased a year-on-year 2.4 per cent, while in rural areas they rose 3.9 per cent, the bureau said.

For the first 11 months, the CPI rose a year-on-year 1 per cent.

Qi Jingmei, a senior economist with the State Information Centre specializing in consumer prices, said the surprisingly higher CPI in November was mainly because of soaring food prices.

In November, food prices rose a year-on-year 8.1 per cent, the statistics bureau said.

Grain prices surged 10.8 per cent last month while fresh vegetable prices jumped 19.4 per cent and edible oil prices soared 27.2 per cent.

Surging food prices also indirectly led to higher costs for other commodities, Qi said.

The cost of services rose 2.2 per cent in November from a year ago, the statistics bureau said.

Among service items, prices for medical care services rose 8.1 per cent, it said.

"The food price increase will continue to have a great impact on the CPI in the coming several months,'' Qi said.

Zhang Liqun, a senior researcher with the State Council's Development Research Centre, said the increase in food prices is mainly due to the grain price hike caused by a reduction in production.

"Adjustments to the grain production structure and natural disasters, such as flood and drought, have led to the reduction in production,'' Zhang said.

Summer grain production dropped 2.4 million tons this year compared with last year to 96.22 million tons, previous figures show.

But analysts say the price for grain and food is not likely to increase any time soon, and if it does, it will not be by much.

Also, Zhang predicted the price rise would not likely to trigger a new round of inflation.

The increased supply capacity would restrict the consumer price from rising by much, he explained.

The higher inflation rate of 1993-95 was mainly due to the lack of basic products resulting from weak agricultural and industrial production, he said.

At that time, production of the country's food supply, raw materials and electricity fell short of demand and prices rose quickly.

But since the mid-1990's, the country's economy has managed to come out of the supply bottleneck.

An investigation by the Ministry of Commerce on the demand and supply of the country's 600 major products suggests that today no products fall short of supply.

"More importantly, the foundation for supply growth has improved,'' Zhang said.

The country is capable of providing sufficient funding, labour and technology to increase the supply capacity, he added.