Three Afghans dead as gunfight erupts
( 2003-12-12 16:45) (Agencies)
Thousands of people demonstrated in front of a local governor's office on Friday, demanding the release of a military commander arrested after a gunfight in which at least three Afghan fighters were killed, officials said.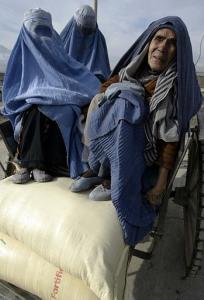 Afghan widows carry food relief they received from a Non Government Organization in Kabul, Afghanistan , Dec 11, 2003. According to NGOs some 30,000 to 50,000 widows are living in Kabul depending on donor agencies. The war-shattered Afghanistan is still depending on foreign aid from donors. The government is holding a meeting, Loya Jirga, for the constitution of Afghanistan to help establish a stronger government. [AP]

Officials in the eastern city of Jalalabad, where the clash happened Thursday, claimed that three men died as U.S. forces arrested Esmatullah Muabat, the military chief of nearby Laghman province, and that he was taken into U.S. custody.

But Muabat's followers claimed the gunbattle was started by Hazrat Ali, Jalalabad's military leader, and disputed that Muabat was in U.S. custody. They also claimed that seven of Ali's soldiers were killed in the clash.

The U.S. military had no immediate comment on the incident in Jalalabad, about 60 miles east of the capital, Kabul.

On Friday, thousands of tribesmen protested in front of the governor's office in Mihtarlam, the capital of Laghman province, demanding Muabat's release, according to supporters of Muabat in the city.

The protesters blocked the road from Mihtarlam to Jalalabad, about 25 miles to the southwest, and were threatening to block the road from Jalalabad to Kabul unless their demands were met.

Agha Jan, a spokesman for Ali, said three men were killed in a gunbattle Thursday with U.S. forces who arrested Muabat. Police chief Haji Ajab Shah said a fourth bodyguard died later in hospital and that two others were injured.

Shah said no U.S. soldiers were hurt in the battle, which he said lasted about 10 minutes.

"I cannot say if the Americans or Esmatullah's bodyguards started the shooting," Jan said by satellite telephone.

Namitullah, a military commander in Laghman and a brother of Muabat, alleged that the dispute with Ali had broken out after three of his men were arrested at a checkpost manned by Muabat's men in Laghman province earlier this week, confiscating a vehicle and a quantity of heroin.

Namitullah said that four other people had been arrested with Muabat in Jalalabad. He accused Ali of planning to send troops to take over Laghman province and said the protesters had gathered to stop that from happening.

They wanted Karzai's government to arrest the people who attacked Muabat and bring them to justice, he said. "We want peace, we want negotiations," said Namitullah, who uses only one name.

Jan also said a small bomb exploded Thursday in a trash can about 1,600 feet from the Indian Consulate in Jalalabad. The blast caused no injuries, he said.