Focus: Working it out
( 2003-12-10 09:41) (China Daily HK Edition)
Even with modest skills, the determined expat can find a job in China. But foreigners are beginning to feel the pinch as competition hots up.
Work in China? Yes, you can!
Tha's what 30-year-old Rebecca Nadin from Britain tells anyone who asks.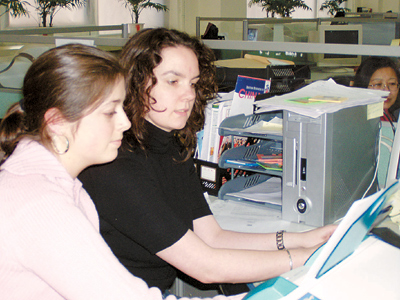 Rebacca Nadin (right) helps find work for others in China. [China Daily]
Three years ago, Nadin came to China to teach English in a small town in South China's Guangdong Province.
During the following years, she job hunted through networking, Internet surfing and headhunter services. She took on several jobs as she moved up her career ladder.
At present, she is Director of Chinese Business Development with Abroad China, a Sino-US joint venture providing exchange programmes between the two countries and offering internships and permanent employment for those seeking international professional experience.
"I'm always fancied China. And there's no better way to satisfy your curiosity and your exotic cravings than to plant yourself right in the Middle Kingdom. That's right, you can find a job in China," said Nadin.
"Impossible? Not if you have a BA, an open mind, and a soul thirsting for change and adventure. Teaching in China is a great place to begin."
"Like myself, many seasoned expats in China once laboured over lesson plans in a Chinese school for a year or two," she said.
Expect to receive a modest salary (Nadin's salary with her first teaching job in China was 2,200 yuan/US$264). However, the job helps newcomers settle down.
"Visa and housing are always the two great concerns for foreigners who want to live and work in China," Nadin said. "With a teaching job, you get both nailed down. Foreign teachers usually get on-campus apartments, support staff, a round-trip plane ticket, and teach up to 16 hours a week."
"Another benefit is that with regular teaching hours, you get a chance to brush up your Chinese in your spare time," Nadin said.
Judging from her own job-hunting experience and her current job-recommending duty, Nadin believes that Chinese language ability is essential for a foreigner to land a job in China.
"If you can speak good Mandarin, the opportunities are endless, especially in business," she said.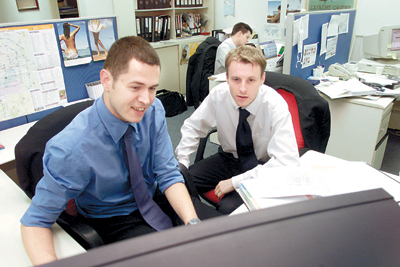 China has a large demand for professional foreign experts to keep up with the country's fast development.[China Daily]
Many businesses need translators, representatives, or bilingual salesmen for their operations. And over the past two years, Nadin's company has recommended dozens of local non-skilled foreigners with great Mandarin to local companies doing market research, communication and updating English web sites and materials.
However, these jobs usually do not get paid as much as a teacher.
"You understand the payment difference. You do not expect a salary as high as you can get in your own country. If money is a really important concern for you, you had better start in Hong Kong. If you just want to get Chinese experience, this can be a good start," Nadin said.
As for IT folks, good Chinese may well be optional. Many China-based hi-tech businesses are itching to upgrade their technology. Hi-tech is such a buzzword in China nowadays that prosperous cities proudly boast their brand-spanking new hi-tech development zones.
They're hungry for some young, fresh talent, and they might just overlook your lack of Mandarin skills. Good IT jobs can be found in Beijing's "Silicon Valley" or Zhongguancun.
If you really find teaching boring and speak little Chinese or have no IT background, there is another alternative.
"Many foreigners just come as students and then get internships at companies or from embassies' commercial sections," said Adrian Feng, a public relations manager with the Programme Management Department of European Union's Beijing Office. The internships in the commercial sections can often lead to good job offers.
"Unpaid, but you are working for your future, right? And you get relevant industry experience which can add great value to your resume." Andrew Smith, a 28-year-old from Britain, looked really excited at the graduation ceremony as one of the latest participants of the 5-year EU-China Junior Managers Training Programme (1998-2003).
With the programme, Smith has spent one year with a Shanghai-based Japanese company as an intern. And on his graduation, he received an offer from the company.
"I'am glad that finally I will get my feet on the ground in China, which is full of opportunities for both the development of individuals and corporations," Smith said.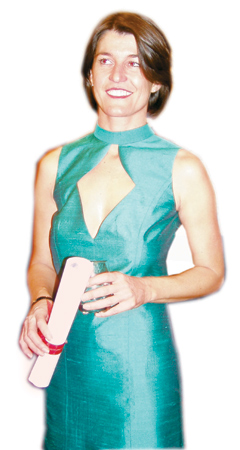 Friederike von Zenker is set for employment in China. [China Daily]

German Friederike von Zenker, Smith's fellow programme participant, has a different story yet with the same ending.

Based on her one-year stay in China as an intern with an international consultancy company, Zenker has landed a job from a big consultancy company in her own country and has been sent to China to branch out in an office here.

If you've arrived in China and still can't find a job, there are still approaches to take. Check the local English-language publications, network, and, sometimes opportunities rather auspiciously come your way.

American Jocelyn Carter landed her current job in a Chinese friend's office when someone happened to be looking for a foreigner with modest talents and a thirst for adventure.

At worst, if you still fail to land a job within three months, at least, you have probably picked up some Chinese and have a better understanding about China. That alone adds another edge to your competitiveness in the job market.

So, what are you waiting for?

"The most fascinating part about staying in China is to witness the rapid development and changes going on around you," said Niels Peter Arskog, resident foreign correspondent of the Icelandic Morning Paper and vice-president of Foreign Correspondents Club of China. The 58-year-old journalist has been in China for eight years and he is planning to stay seven more years till his retirement.

Just the job?

Is Beijing still a wide-open land of opportunity for foreigners lured by the prospect of finding their fortune in the world's most populous nation?

Talk to employment experts, job hunters and veteran expats and a fascinating, and perhaps rather surprising, picture emerges.

Given the hype surrounding China's entry to the WTO and Beijing's successful Olympics 2008 bid, you'd be forgiven for thinking job seekers touching down in the capital were arriving in a land of opportunity.

Depending on what they can do, they are. But anyone who still believes that simply having English as a mother tongue is enough to unlock the door to Aladdin's cave is in for a rude awakening.

Headhunter Larry Wang of Wang and Li Associates puts it succinctly: "The job market for expatriates is continuously shrinking, multinationals are localizing their staff in an effort to both lower costs and capitalize on those Chinese graduates returning from studying abroad."

That said, China is still hiring foreign experts and specialists in areas such as information technology, biotechnology, aviation and international trade, amongst others. As the country's opening-up process intensifies, it seems there's always space for English teachers - just don't figure on getting rich if all you can do is speak the language without specialized qualifications.

One American who came to teach English said: "I regard it as a foot in the door. At 4,000 yuan (US$483) plus a room I'm on half of what I could make at home. But you can live comfortably on that in Beijing and it gives you a chance to check out an amazing culture and see if you want to be here longer.

A Canadian teaching English at a private Beijing language school said: "Let's be honest, there are several levels of expats in China.

"There are managers, diplomats and embassy staff and company men who are either on mega-buck salaries or in very cushy jobs. Then there are the rest of us: drifters, students, English teachers and foreign experts scraping to make a decent living, maybe hustling for a step up the ladder.

"Foreigners come for all sorts of reasons. But a relatively small number are making their fortune. Me, I'm happy to get out of the rat race for a year, discover a new culture and find out what's really important in my life. For me, it's not money."

Much comes down to the motivating factor for coming to China. Michael Connolly, the organizing force behind the popular Shanghai Expat website (www.shanghaiexpat.com) points out that "the job market has been flooded with educated and experienced overseas Chinese being attracted to the same thing other expats are attracted to, the lure of riding the boom."

Expats already in China depend on the same all-important guanxi that Chinese use when looking for their next move, he says. Added Connolly: "No longer is it enough simply to be just a native speaker. Count on being asked to produce a degree, some work experience, a TESL certification, and then you might be considered."

Added Connolly: "If you do not have the education, experience, language skills, contacts, etc. to have someone look at your resume and go 'wow!', your options are a little more limited. Most administrative, technician, retail, food service, and general mass market jobs are for locals who speak the language, who have the contacts and who are willing to work for 700-3,000 yuan (US$84-362) per month, full time, six days a week."

Larry Wang says that while multinational companies like IBM and Motorola have large payrolls, bottom-line profitability is their main objective. They want someone who has proven they can deliver the goods - in China. Increasingly, that translates into local hires who have built up experience and exposure, possibly with overseas work and study.

Wang's view of China remains cautiously upbeat. While pointing out that the environment in a fast-developing country is constantly changing, he says that "personal drawbacks are few if you make the effort to learn Chinese and keep a positive attitude."

Foreign talent plays big role in development

China has paid great attention to the international exchange of personnel over the past 25 years during the reform and opening up process.

But the introduction of talent from abroad has become particularly urgent since the government believes that competition among different countries in the 21st century will focus on this precious resource.

The State Administration of Foreign Experts Affairs (SAFEA) is the highest ranking among the different institutes for talent introduction and management.

Su Guangming of the department of regulations and liaison of SAFEA, said many central government departments need a large number of professional foreign experts in banking and the China Securities Regulatory Commission, in addition to the departments of provincial governments.

Su, who has just finished a research visit in Northeast China, said the preparation work for the state project to further develop Northeast China is continuing and that "talent is the most important aspect for its success."

According to Chinese experts on talent introduction, one expert from a foreign country is equivalent to sending 20 Chinese people to study abroad.

Foreign experts working in China are usually categorized into economic and technological experts and cultural and educational experts. The former refers to industry, commerce, finance and foreign-invested ventures.

Cultural and educational experts typically work in institutions of higher learning, media and publishing, scientific research and art institutes.

According to the State Statistics Bureau, there were some 440,000 overseas experts working in China in 2001. Among them 250,000 were from abroad and 190,000 from Hong Kong, Macao and Taiwan. Long-term experts occupied 42 per cent of the total, while short-term ones made up the remaining 58 per cent.

To date, SAFEA has established co-operative relations with over 300 government organizations, international institutions, prestigious universities and non-governmental organizations in more than 60 countries and regions.

While promoting governmental exchanges and co-operation through symposia, trade fairs and sister city relations, SAFEA is also resorting to and expanding non-governmental channels.

However, some regulations and policies concerned with foreign talent introduction still limit the exchanges of international personnel.

"There is a very strict practice for hiring a foreign expert to work in government and Party departments," Su Guangming said. "The highest rank of foreign expert working in the government is a senior consultant so far."

Concerns about state safety and secrecy are the main reasons those departments refuse foreign experts, according to Su.

Yao Yuqun, a professor of labour resource, in Renmin University of China, said there is no cause for worry in most cases.

On the other hand, Yao said, foreign talent working in China can often create more job opportunities and can, to some extent, help relieve the employment market.

This month SAFEA will hold a conference on the international exchange of personnel and some new regulations will be formulated to help introduce foreign talent to China.