Angry Zimbabwe withdraws from UK Commonwealth
( 2003-12-08 09:50) (Agencies)
Zimbabwe's President Robert Mugabe has withdrawn his nation from the Commonwealth with immediate effect.
The move came just hours after leaders of the body agreed to extend their 18-month suspension of the southern African country for alleged abuses of civil liberties.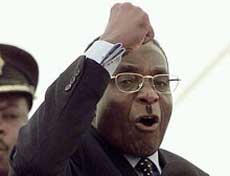 Mugabe has decided he no longer wants to be a member of the Commonwealth club. [AP]

According to news reports, Mugabe informed the leaders of Jamaica, Nigeria and South Africa of his decision when they phoned him to discuss the suspension decision.

In a statement, Zimbabwe's government said Mugabe did not accept the commonwealth's position, and was leaving the group.

"It's quits, and quits it will be," Mugabe's government said in a statement from Zimbabwe, according to The Associated Press.

The Commonwealth -- a 54-nation group of mainly former British colonies -decided to extend Zimbabwe's suspension after a contentious four-day leaders meeting in the Nigerian capital of Abuja.

Zimbabwe was first suspended by the Commonwealth early last year on the grounds Mugabe had rigged his re-election and persecuted his opponents.

CNN's Jeff Koinange, reporting from Abuja, said Mugabe had decided to "get in first" and quit the Commonwealth.

"In typical Robert Mugabe fashion he doesn't want to be outdone by any of these countries. He just wants to go ahead and withdraw his country from the Commonwealth," Koinange said.

The decision to extend Zimbabwe's suspension from the Commonwealth indefinitely was based on Harare's alleged continued record of human rights abuses, but it was not a consensus view.

A powerful group of African Commonwealth countries lobbied hard for Zimbabwe's readmission and the issue created tensions throughout the four-day meeting.

Koinange said the rift between the pro- and anti-suspension groups was very apparent in the body language of the leaders at the meeting.

He said the split was broadly between the wealthier "white" nations such as Britain, Canada, New Zealand and Australia and poorer African nations such as South Africa.

Mugabe had been exploiting this rift in a bid to win Zimbabwe's re-admittance but once that tactic failed, the fallback position was to quit the grouping altogether, Koinange added.

British and other Commonwealth officials refused immediate comment, according to the AP.

Membership of the Commonwealth gives many countries a valuable international stage, and some trade and aid benefits. Exclusion carries the stigma of pariah status in the international community.

Zimbabwe's already struggling economy is likely to be further damaged by this decision, according to Koinange.

Commonwealth officials have said the ban will stand until Mugabe introduces human rights and political reforms.