Russia poll: Pro-Putin party ahead
( 2003-12-08 08:50) (Agencies)
The party backing Russian President Vladimir Putin headed for an emphatic victory on Monday in Russia's parliamentary election, tightening his grip on power but raising doubts about Russian democracy.
Counting staff open ballot box at polling station in St.Petersburg, Sunday, Dec 7, 2003. [AP]

The Communist Party, facing a huge slide in support, called Sunday's polls a farce and liberal party leaders warned of a police state after initial results showed United Russia set to become the dominant force in the State Duma lower house.

The fourth election since the Soviet Union's collapse looked sure to hand the highly popular Putin even greater powers to restructure the economy, fight corruption, boost his bureaucracy and rein in the business elite in a country craving stability.

But critics say a strong pro-Putin majority in the Duma will help ex-KGB hard-liners in the Kremlin who want to revive authoritarian rule. Opposition leaders accuse them of using state resources and media controls to promote United Russia.

"This is another monopoly -- in power. We have it in banking and in gas and now we have it in power," said Yevgeny Gavrilenkov, head economist at Troika Dialog.

The latest results from the electoral commission put United Russia on 36.3 per cent, while an exit poll gave it 34 per cent.

"Many parties were fighting to win seats in the Duma. We were fighting for Russia," party leader and Interior Minister Boris Gryzlov said on Russian television.

The communists, who are popular with the old and poor and form Putin's main opposition, were on only 12.9 per cent -- way down from the 24 per cent they garnered in the 1999 election.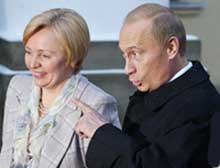 Putin and his wife Lyudmila vote at a polling station Sunday, Dec 7, 2003. [AP]

"This is a shameful farce which has nothing in common with the country's interests," said Communist Party chief Gennady Zyuganov, facing the biggest setback of his political career.

"You are all participants here in a revolting spectacle which for some reason is called an election."

NEW POLITICAL LANDSCAPE

Ultra-nationalist Vladimir Zhirinovsky's Liberal Democratic Party of Russia (LDPR) had 13.7 per cent, but that was likely to drop as results from western areas were declared.

Motherland (Rodina), a new party combining left-wing economics and nationalism, made a surprise showing well over the five per cent barrier required to win parliamentary seats.

LDPR and Motherland are likely to back the Kremlin, possibly giving it the two-thirds majority needed to change the constitution if it was to allow Putin a third term as president.

Putin, a 51-year-old former KGB spy, now looks certain to win a second four-year term at presidential polls in March.

Boris Nemtsov, whose liberal Union of Right-Wing Forces may not even pass the five per cent barrier, said the results had created "an absolutely different political landscape."

"The majority in the State Duma will be made up of people who stand for a police state and for the limiting of civil liberties," he said on Russian television.

The figures only apply to the half of the Duma's 450 seats awarded on the strength of national party lists. The remaining 225 seats are elected in individual constituencies and will be announced later in the week.

Some experts say the results could ease passage of laws favoring foreign investors.

But fears remain that the Kremlin is becoming more intrusive in the private sector after the arrest in October of Russia's richest man and former YUKOS oil company chief, Mikhail Khodorkovsky, on fraud and tax evasion charges.