Chinese netizens to hit 78 million
( 2003-12-08 07:57) (China Daily)
The number of Internet surfers in China is expected to reach 78 million by the end of this month, according to a report on the development of the Internet in China.
The report, given by Hu Qiheng, chairwoman of the Internet Society of China, at the Second Internet Conference of China, said that by the end of the year there would be 500,000 websites and 30 million online computers in China.
According to Hu, China's Internet industry has made remarkable achievements in both technical innovation and services in 2003.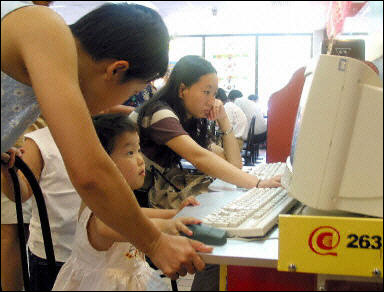 She especially mentioned that the importance of the Internet was clearly shown during the outbreak of severe acute respiratory syndrome (SARS) in the first half of the year, during which a large number of people in cities turned to the Internet to carry on their business.
However, Hu admitted that in comparison with developed countries, the Internet in China is still in its first stage.
For example, the number of Internet surfers in China accounts for only 5.2 per cent of the country's total population, while the percentage in the United States is 63.2 and the average percentage among all countries is 10.7.
In addition, online administration and operation of businesses is not so widespread in China as it is in developed countries.
Although 47 per cent of the 8.3 million small and medium companies in China have Internet connections, only 11.1 per cent of them conduct e-business.
In comparison, 60 per cent of small companies, 80 per cent of medium sized companies and 90 per cent of large ones in the United States are doing e-business.
At the two-day conference which concluded yesterday, Xi Guohua, vice-minister of information industry, said the ministry will strengthen its macro planning and guidance of the Internet industry and push forward the upgrading of the Internet with a focus on market.
Meanwhile, the ministry will encourage the development of all sorts of public data bases, speed up the establishment of a system for information sharing, and promote the use of the Internet in fields such as the industrial sector, education, culture and health care.
In addition, the ministry will strengthen its management and work quickly to formulate laws on information security, given problems such as online crimes and the promulgation of unhealthy information.
Since the Internet was put into business use in 1990s, it has spread into more than 240 countries and regions around the world and the number of users has reached 700 million, according to Xinhua.
The Internet entered China in 1994 and in recent years, the number of users has been increasing by 5 to 6 per cent monthly. Currently the number of Internet surfers in China is second only to the number in the United States.
The Ministry of Information Industry estimates that by 2005, online computers will reach 40 million and 15 per cent of the population of China will be surfing the Internet.