Queen visits mock Nigeria village
( 2003-12-05 09:02) (Agencies)
As leaders of her former colonies converge for a Commonwealth summit, Britain's Queen Elizabeth II was to visit a mock-up Nigerian village populated by actors playing villagers, coming as close to ordinary people of this country as she is likely to because of security concerns.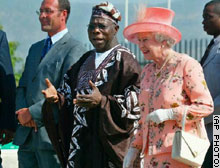 Nigeria's president Obasanjo is escorting the queen on her trip.

The 72-year-old British monarch's virtual-Africa tour Thursday falls on the eve of the opening of the 52-nation summit, with organizers struggling to keep sanctions against Robert Mugabe's Zimbabwe from dominating the agenda and dividing Commonwealth leaders.

Elizabeth and Prince Philip opened their two-day state visit Wednesday, marking the queen's first return to Nigeria since 1956.

Elizabeth then was only four years into her reign, and Nigeria, then Britain's most populous remaining colony, was still four years away from independence.

Her first visit lasted far longer than this one -- 20 days. Her husband went surfing then, and the young queen "adopted" -- or sponsored -- a 10-year-old leper girl.

"Queen Elizabeth mingled with hundreds of lepers today and found them all cheerful," an AP report from that first trip said.

On this visit, time constraints and security concerns were to limit the queen's contact with working-class Nigerians to a walk Thursday through a mock village constructed by the British Broadcasting Corporation.

The village at Karu, 20 miles (32 kilometers) east of the capital, Abuja, is the set of a BBC radio soap opera, with its plot set in a Nigerian market.

Local traders have been allowed to set up stalls for the occasion, but will be kept 100 meters (yards) back, authorities say.

The radio actors would be allowed to meet the queen, but it was unclear whether the market-sellers would come within range.

Prince Philip was slated to visit health and environment projects Thursday in the sprawling commercial capital of Lagos, sub-Saharan Africa's most crowded city.

President Olusegun Obasanjo, whose 1999 election ended 15 years of military rule and Nigeria's ostracism by the Commonwealth, welcomed the British royal couple at Abuja's airport Wednesday.

British Prime Minister Tony Blair was among government leaders due to arrive Thursday.

The Commonwealth Heads of Government Meeting of Britain and its former colonies runs through Sunday.

The ambitious agenda calls for promoting development and democracy in some of the world's most impoverished and troubled nations, including Zimbabwe, Pakistan, Papua New Guinea and Nigeria.

Zimbabwe itself has been suspended from the Commonwealth decision-making councils since Mugabe's disputed 2002 elections. Mugabe himself was pointedly told to stay away from the summit, by Obasanjo himself.

Mugabe has threatened to pull out of the Commonwealth, a prestigious bloc whose main clout is suspensions and the threat of suspensions.

African leaders, including those in the Commonwealth, largely have stayed quiet while Western leaders condemn alleged rights abuses in Zimbabwe.

Blair is believed under pressure to maintain a hard-line against Mugabe.

In Britain, shadow Foreign Secretary Michael Ancram said: "He must persuade Commonwealth leaders to stand united in criticizing the abuses of the Mugabe regime."