China diva, Faye Wang, changes her Ice Queen?
( 2003-12-02 14:27) (straitstimes.com)
Things are going swimmingly for the China diva, who is more talkative these days. But her string of generalisations reveals nothing.
Lesser beings would have looked like a silly Cirque du Soleil clown in that Yohji Yamamoto lime-green ensemble with candy-coloured wraparounds for neck and limbs.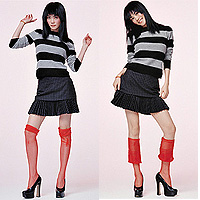 Both sides now: Has Faye Wong become a warmer personality or is she still the Ice Queen? It's up to fans to decide.

But Faye Wong is no mere mortal - at least judging from the extent of fuss over the 1.72m-tall China singer-actress.

The ballroom in the glitzy Portman Ritz-Carlton in Nanjing Road is done up like a queenly shrine.

Posters of her divine image are plastered all over, and a huge screen plays the chic music videos for the singles from her new Mandarin album, To Love.

As for the star herself, she strolls in alone on time, very tall and imperturbable, in the way that only the truly blessed would be able to pull off.

Her doll face clear and framed by bangs, the 34-year-old looks as unreal as a mannequin.

But what's truly unreal? That she talks more than usual, albeit in a string of generalisations.

'To begin with, I never felt I was aloof,' she says, when a journalist comments that she sounds warmer and 'more approachable' on record these days.

Then, she actually laughs.

'I don't have a certain image, that I should be cool or aloof. But there are many sides to humanity. Maybe you only see one side of me. I can only explain this way,' she says.

Her forthrightness is - pardon the pun - a godsend.

Maybe it is because she is more at home (literally and mentally) with the 60 journalists and cameramen who have converged here from all across China. Maybe, she is a great actress.

Or maybe she is really, really happy.

WHY wouldn't she be?

She has apparently reunited with Hong Kong bad boy of pop, 23-year-old Nicholas Tse, who has penned a song called MV, which she says is 'my personal favourite'.

Her 19th studio album and her first on Sony has sold more than one million copies in Asia alone within a week of its release on Nov 7, with half of those in China.

She will soon wrap up filming for the eagerly awaited Wong Kar Wai movie, 2046, where she plays a robot opposite such stars as Japan's Takuya Kimura and Taiwan's Chang Chen.

She will also be staging eight concerts at the Hong Kong Coliseum next month. Along the way, she set a record in Hong Kong for selling 30,000 tickets via telephone booking within three days.

Just last Saturday, the whole Shanghai Stadium, packed with 80,000 compatriots, sang with her at the 2003 Asia Superstar Anti-Piracy Concert.

Later, after the press conference in a small meeting room, I ask her how much she thinks she has changed over the course of 14 years since appearing on the Hong Kong pop scene as starlet Shirley Wong.

'Well, I've gone through a lot... Well, not that much, but you know, it's more than a decade,' she says in lilting Mandarin.

'I'm getting older, and I guess I've seen through things. I don't deliberately plan things.'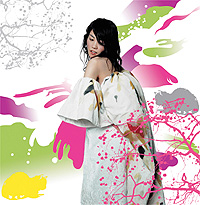 Loving it: Wong's album To Love sold more than one million copies in Asia within a week of its release.


She goes on to downplay her sense of mission in music - 'I don't have any' - and lets on that 'music to me is a form of interest, a leisurely pursuit'.

She hastens to add: 'But then there is nothing wrong about having a mission. Some people have their own pop missions. Everybody has his or her own way.'

By now you realise that for all her new-found loquacity, she is not one for specifics.

She still speaks in a merry-go-round of non sequiturs and fortune-cookie aphorisms, correcting herself along the way in a sort of abbreviated speech, not unlike a Zen master or a shadow boxer.

NOT that you detect any put-on act.

Sad but true: It is the Herculean task of a journalist to crack a celebrity within a brief span of 15 minutes, to sum up an artist in quick-bite pop psychoanalysis, but with Wong, that modus operandi does not cut any glass.

It is not that she is particularly media-wary.

It is just that she comes across as a person who needs years and plenty of trust for her to open up.

For armchair shrinks, it helps that for To Love, she has penned four songs, including a trip-hop number called Leaving Nothing. It has an intriguing line that goes: 'I've given you my heart and I've given him my body.'

Those lyrics were the subject of a reporter's query at the conference: So, is this an accurate reflection of your love life?

Her answer, delivered placidly, is candid: 'Actually, even if I give a yes or no to your question, you wouldn't exactly understand what I'm trying to say.

'I don't mean to be difficult. However which way I explain, your comprehension and my explanation aren't going to be the same.

'But, of course, the song is a reflection of my love life. But if you want to know what this 'you' refers to, and what 'him' represents,' she says, and pauses for a laugh, 'it's not something I can say.'

She confesses she is more of an instinctual kind of person; that she has always followed her heart, but 'most importantly, it is to make oneself happy'.

By way of example, she says she does not mind letting her seven-year-old daughter (her child with ex-husband musician Dou Wei), Jingtong, 'try' the music scene when she grows up - if she has the talent and interest.

More beguilingly, the singer admits freely that she does not like the songs she sang 10 years ago, although she will sing her early Cantonese hits at her Hong Kong concerts.

'It's to cater to my fans who still want to reminisce. In music, I'm not one for reminiscing. I like new things' is her matter-of-fact take.

SUCH an honest answer may rile other people's fans, but this is one diva whose disciples adore her precisely because she displays such brazen individuality in a pop scene filled with manufactured nymphets mouthing rehearsed lines.

Asked how she feels that Chinese censors have banned one of the songs, In The Name Of Love, because it contains the line 'Opium is warm and sweet', and she says blatantly she has 'no strong opinion'.

'After all, it's a Cantonese song, and the lyrics are by Lin Xi. I didn't write them,' the Beijing-born native says without missing a beat. 'Personally, I like my own original Mandarin version with my lyrics.'

Not surprisingly, she says she prefers singing to acting because 'it's more natural and individualistic', even though she did win raves for her performance in 1994's Chungking Express.

She describes how director Wong would play a song by Norwegian neo-classical pop duo Secret Garden for her on the set of 2046.

'It's a very, very sad song. Sorry, I can't remember the title. It's for a crying scene. He would play the song to let me cultivate the right feelings for the scene. In that way, it becomes easier. Yes, that's the way I get into the mood, through music.'

Talking about 2046, does she know that her co-star Tony Leung Chiu Wai said she is a great actor during a recent interview on Taiwanese TV?

Her reaction is immediate and out of the blue.

'Ahh... who did he say it to?' she yelps, catching her breath.

It is entertainment doyenne Chang Hsiao-yen on her talk show Swallow Time.

'Tony would say the same about any other actor. Don't believe him. I don't believe him,' she says, girlishly embarrassed.

'I really don't think I can act.'

To Love is out in the stores.

Faye in Her Own Words
ON PACKAGING

'I believe that if people like my albums, it's not because of my packaging. All the clothes and make-up are only accessories. They don't matter, really.'

ON WHY THE TITLES OF ALL THE SONGS IN HER NEW CD CONSIST OF TWO CHARACTERS

'It's the habit of modern people. We like to abbreviate in our everyday speech. It's just fun. Names and titles aren't important.'

ON HAVING NO CAREER GAME PLAN

'You can't deliberately set out to find something. If it isn't there, it isn't there.'

ON HER ACHIEVEMENT

'If I have any achievements, it's a combination of my assets as well as luck. Not many people can accomplish what they want, so I've been fortunate. Whatever you do, you will be most confident if you follow your own feelings. As for the rest, it's fate. You know what fate is?'