Boeing chief announces resignation
( 2003-12-02 02:00) (Xinhua)
Boeing Co. chairman and chief executive Phil Condit, citing a year of controversies involving the huge aerospace manufacturer, resigned unexpectedly only days after the company fired two other Boeing officials for an alleged ethics breach.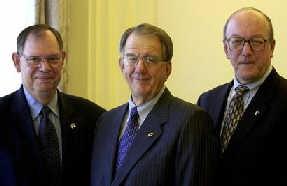 Phil Condit, left, former Boeing Co. chairman and chief executive, poses with Harry Stonecipher, center, the company's new president and CEO, and Lewis Platt, named the new non-executive chairman Monday, Dec. 1, 2003, at Boeing's headquarters in Chicago after the company's board announced they had accepted the resignation of Condit effective immediately. [AP]

The company's board accepted Condit's resignation after deciding "a new structure for the leadership of the company is needed," Boeing announced Monday, saying the decision was made several days ago.

The stunning move comes as the company is facing scrutiny by the Defense Department for a much-criticized government plan to acquire Boeing 767 planes for use as refueling tankers and answering questions about the ousters of two executives for ethical misconduct during the period it was being negotiated.

Lewis E. Platt, the former Hewlett-Packard Co. CEO chosen to replace Condit as chairman, stressed that there appeared to be "nothing whatsoever" connecting Condit to the ethical issues that resulted in those firings.

Former Boeing president and chief operating officer Harry C. Stonecipher, 67, who retired last year, takes over immediately as president and CEO.

Condit, 62, is being kept on to help with the transition before retiring on March 1, according to the company; he will not remain on the board.

In a conference call, Condit said he had first offered to step aside a week and a half ago, with the resignation becoming final on Sunday "after a great deal of soul-searching."

"I ultimately concluded it was the best decision for the good of the company," he said. "In the end, I concluded that the controversies and distractions of the past year were obscuring the great accomplishments and performance of this company. My fear was we would get bogged down.

"I believe the best way for the company to stay on track is to step aside and bring in new leadership."

Boeing has been roiled for months by ethical controversies over the aggressive methods it used to obtain lucrative defense contracts.

The shake-up comes a week after Boeing unexpectedly fired its chief financial officer, Mike Sears, for unethical conduct, saying he negotiated the hiring of an Air Force missile defense expert while she was still working for the Pentagon and was in a position to influence Boeing contracts. Sears has denied any wrongdoing.

Sears was dismissed along with the former Air Force official, Darleen Druyun. She was hired earlier this year as vice president and deputy general manager of Boeing's Missile Defense Systems unit.

Condit had been with Boeing since 1965, when he joined the company as an aerodynamics engineer. He has been chief executive since 1996 and chairman since 1997, the company's seventh chairman since it was founded in 1916.

Platt praised Condit's "characteristic dignity and selflessness in recognizing that his resignation was for the good of the company" and said the board "is in unanimous agreement that the company has been pursuing the right transformation strategy and that Boeing is in excellent financial condition."

Stonecipher said on a conference call that a primary task of the new leadership is to strengthen the company's reputation with customers, employees and investors after the recent controversies.

"We have the right strategy," Stonecipher added. "The task before us is to execute. ... Boeing is a great company with tremendous capabilities to define the future in each of our markets and deliver consistent, profitable growth."

For decades, Boeing was primarily an aircraft maker, earning most of its money from its jetliners. But in the aftermath of the Sept. 11, 2001, terror attacks, Boeing's defense division now brings in more revenue than commercial airplanes. Boeing has expanded its space, communications and other businesses as well.

Rival Airbus expects to eclipse Boeing this year as the world's largest commercial jet manufacturer.

Defense Department investigators are examining a newly approved deal to acquire 100 Boeing 767 planes for use as midair refueling tankers.

The deal was criticized this fall when documents revealed that Druyun, then the principal deputy assistant Air Force secretary for acquisition and management, told Boeing that Airbus had submitted a bid US$5 million to US$17 million less per plane than Boeing's offer.

Last Friday, two senators who have long criticized the plan ¡ª Republicans John McCain of Arizona and Peter Fitzgerald of Illinois ¡ª said in a letter to Defense Secretary Donald Rumsfeld that it would be "irresponsible" for the department to go ahead with the deal without a full review into the firings.

The agreement, in which the Air Force would lease 20 tankers and buy 80, was authorized as part of the defense appropriations bill signed Nov. 24 by U.S. President Bush.

In July, the Pentagon punished Boeing for stealing trade secrets from rival Lockheed Martin to help win rocket contracts. Boeing has been indefinitely banned from bidding on military satellite-launching contracts, which has already cost it seven launches worth about US$1 billion.

A spokesman for the union representing engineering and technical workers at Boeing called Condit's departure "a real shock" and said there would be trepidation among the workers at Stonecipher's ascension to CEO.

"There was no love lost between Mr. Stonecipher and the SPEEA-represented employees three years ago when our union went on strike," said Bill Dugovich of the Society of Professional Engineering Employees in Aerospace.

Boeing's stock rose 5 cents to US$38.44 in afternoon trading on the New York Stock Exchange.