Yao Ming, Yang Liwei among top ten young people of 2003
( 2003-11-28 16:45) (China Daily)
China's first astronaut Yang Liwei, Houston Rocket Center Yao Ming and eight other outstanding young people were awarded the title of China's top ten young people of 2003 here Thursday.
| | |
| --- | --- |
| Yao Ming, Chinese basketball star | Yang Liwei, China's space hero |
The ten, including a journalist, medical worker, scientist, businessman and an official, were selected by a special committee from among 47 candidates from across the country.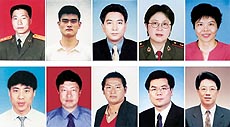 The top ten youngsters of 2003 are (top L-R): China's space hero Yang Liwei, basketball star Yao Ming, well-known journalist from CCTV Shui Junyi, a researcher on epidemic disease from Guang Dong Military Hospital Chen Wei, and Zhang Jihui, a nurse who work in the front line during SARS outbreak in a Guangdong hospital; (below, L-R) president of a high-tech company in Beijing Wang Weibin, party secretary of a Xinjiang villiage that suffered from earthquake Zhu Zhunping, a disabled but strong-willed young man from Yunnan Province He Zhigang, scientist Rong Yichao, and Gao Xiang president of a pharmaceutical company in Harbin.
The is the 14th appraisal of its kind in China, and was jointly organized by the All-China Youth Federation, the China Youth Development Foundation and a number of media organizations.
The awarding ceremony will be held in December, sources at the All-China Youth Federation said.