BMW to launch China-made 5-series in China
( 2003-11-28 10:52) (Agencies)
BMW will launch its 5-series model, its second made-in-China car, this weekend amid booming sales of luxury sedans on the mainland, company chairman Helmut Panke said.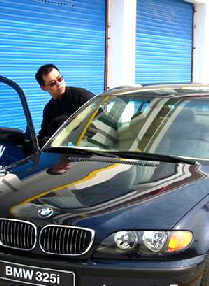 A black BMW 325i, the first produced in China by a joint venture between German BMW Auto and China's Brilliance Automotive Company Ltd, was introduced to Chinese consumers on October 16, 2003, in Shanghai. BMW 325i will be sold at 473,850 yuan (US$58,000). The German auto giant said it is going to produce BMW 3 and 5 series in China. [newsphoto.com.cn/file]

He said the German auto giant has sold more than 900 units of its 3-series, the group's first China-made car, since it went on sale on October 16 though a joint venture with Brilliance China Automotive Holdings Ltd.

Last month, the company forecast sales of between 2,000 and 2,500 domestically-made 3-series cars this year, rising to about 9,000 next year.

Panke, however, would not speculate on sales targets for the 5-series.

BMW has been riding the wave of a booming Chinese car market where industry sales have risen by 67.8 percent to 1.51 million units in the first 10 months of the year.

BMW's China sales rose 62 percent last year to 6,677 units, although all of these cars were imported through a import quota system.

But in the first 10 months of this year, the luxury carmaker's sales more than doubled to 11,847 units.

"The role of this market for our company is increasing," Panke said at a news briefing.

"In our BMW retail figures, we see the enormous momentum that is in the Chinese mainland market. This is why we continue to increase our presence here.

He said though that BMW had no immediate plans to start producing its 7-series model.

"When you push a car in the market more than the natural demand is there, that's when you ruin your clear position," he said.

BMW is hoping to challenge the dominance of its German rival, Volkswagen AG unit Audi AG, which has held a virtual monopoly on the upper end of the market because of its domestic manufacturing presence.