Beijing in the dark about US case on spy
( 2003-11-28 08:52) (China Daily)
The Foreign Ministry said Thursday that it knew nothing about a US case against a Chinese-born US resident once convicted by Beijing of spying for Taiwan, who this week pleaded guilty to illegally selling US technology to the mainland.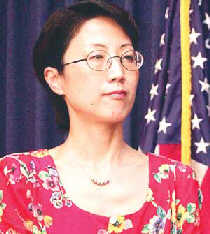 Gao Zhan: Pleading guilty

"This is a new situation," ministry spokesman Liu Jianchao told a news conference. "The Foreign Ministry does not know at all about the relevant circumstances."

He repeated China's assertion that Gao Zhan, a US-based Chinese sociologist, had returned to the Chinese mainland many times to spy for Taiwan.

Beijing sentenced her to 10 years in prison in July 2001. But two days later, on the eve of a visit by US Secretary of State Colin Powell, China granted her release on the grounds she was in poor health and expelled her to the United States.

On Wednesday, Gao pleaded guilty in a US district court to one count of unlawfully exporting a controlled item and one count of filing a false tax return.

The items at issue are Military Intel 486 DX2 Microprocessors that has multiple uses, including in missiles to perform identification and discrimination functions.

They can also be used on aircraft in digital flight control and weapons fire-control systems. Gao acquired the microprocessors from a Massachusetts electronics supplier and shipped them to Nanjing SunSea Industry Corp in Nanjing in October 2000.