Maybe, says Hillary Clinton to 2008 presidency
( 2003-11-27 14:01) (Agencies)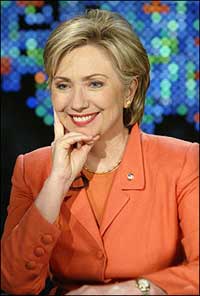 This photo provided by CNN. Clinton told a German magazine that she may run for US persident in 2008, but will stay out of the campaign next year. [AFP/File]

With a smile, Hillary Clinton suggested that she may run for US president in 2008 but stay out of the campaign for next year, in an interview with a German magazine.

Asked by Bunte magazine why she was not standing in 2004, a race already well under way, the New York senator said she was happy with her current job.

But people are disappointed she was not competing, she was told.

"I know. Well, perhaps I'll do it next time around," she replied.

The former First Lady to Bill Clinton has already repeatedly denied she is contemplating standing for the Democratic nomination for next year's election, although that has not stopped the speculation.

However, she is widely thought to hold ambitions for the 2008 race.

A Newsweek survey in September showed her to be a preferred choice for more Democratic voters than any other Democrat to stand against incumbent President George W. Bush.

In the interview, Clinton said her husband, who won two terms as president until 2000, remained her best advisor.

"It is actually a kind of job rotation. First, Bill focused on his career, now it's my turn. Bill supports me and gives me tips, he's my best advisor, as I tried to be for him when he was fulfilling political office."

She said she hoped the United States would one day have a female president but that it was up to women to show that they could do the job.