Transsexuals come out of the closet in China
( 2003-11-27 08:51) (China Daily)
Mainland tabloids have recently entered a phase of sudden fascination with transsexuals (TS). Rarely has a month gone by without a detailed account of some out-of-towner with a French-sounding nickname pleading with big-city doctors for a sex-change operation.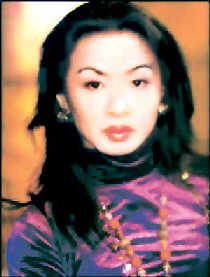 Jin Xing: A transsexual
dancer/choreographer

Chen Huanran is one of these doctors. The plastic surgery department at the Chinese Academy of Medical Sciences, where he works, is one of the few of its kind in Asia that specializes in the surgery.

"As many as 3,000 people come to us every year," Dr Chen told China Daily. "However, we are very rigorous in screening and approve only a very small number for the actual surgery."

The patients have to go through a lengthy process of psychological counselling and physical checkups before a decision is made.

Dr Chen disapproves of the many sex-change cases in Thailand as "induced by external influences". In China, doctors would not recommend it unless absolutely convinced that the patient's urge is fuelled by innate needs, says Dr Chen.

He calculates that, using a rate of one out of 50,000, China would have 24,000 who suffer from a TS drive. So far, about 500 people on the mainland have undergone surgery.

The current craze for TS-related gossip can be traced back to Ha Ri-soo, a South Korean entertainer whose sex change helped catapult her into the realm of mega-stardom. Photos of her in provocative poses circulate widely and tidbits about her latest album or movie role fill up tabloid pages.

Chinese obsession with castration goes back much further. In the kung-fu genre, there is an age-old practice of self-mutilation whereby the martial artists would achieve some kind of mythical power.

However, they are usually portrayed as villains such as the Invincible Orient in Jin Yong's Xiao Ao Jianghu, an epic novel of Chinese chivalry.

Some pundits attribute the current vilification of TSs to this myth. Dr Chen Huanran, in an interview with China Daily, admits that lack of tolerance is the biggest hurdle facing those who intend to have sex change or have already done so. Most of these people leave their hometowns to avoid the disapproval of neighbours and relatives, and are rarely accepted by family members.

A significant number of those who have successfully mutated into the opposite sex hide their gender history from their spouses. Zhang Kesha, who claimed to be the first TS in the mainland by having the operation in 1982, was married for 14 years without telling her husband the secret. Then she ran into someone who knew her past and became the victim of extortion.

Jin Xing is probably the first homebred celebrity who uses her sex change to enhance her name recognition. The award-winning dancer/choreographer never shies away from publicity even though mainstream television shows hesitate to put her image on screen.

"She combines the strength of a man and the gracefulness of a woman and uses the qualities of both genders to get what she wants," comments Cheng Fangyuan, a pop singer who has collaborated with her on several projects.

For the ordinary guy who desperately wants to be a girl, or vice versa, the cost of the operation can be a big deterrent.

The medical bill starts at 50,000-80,000 yuan (US$6,045-US$9,670) for male-to-female, and 80,000-100,000 yuan (US$9,670-US$12,000) for the other way around.

But it can jump several-fold if changes to other parts of the body, such as face, are involved, Dr Chen reveals.

Dr Chen further clarifies that the International Olympic Committee has made a decision to allow TS athletes to compete in the Games.

"That sends a clear message for more tolerance," he says. And two of China's top athletes are TSs, one in wrestling and the other in discus, and they may well get into the Games next year.

Of course, Dr Chen would not reveal their identities because they prefer not to have the extra spotlight of public curiosity.