Separatist law bound to draw strong response
( 2003-11-27 00:23) (China Daily)
Beijing has pledged to respond with tougher action if Taipei passes a law allowing the island to hold a referendum, creating a legal basis for formal Taiwan independence.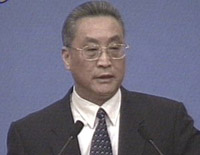 Zhang Mingqing, a spokesman of the Taiwan Affairs Office of the State Council.
Zhang Mingqing, spokesman with the Taiwan Affairs Office of the State Council, said yesterday the mainland strongly opposes any law containing clauses allowing alterations to the island's name, flag, anthem and territory by means of referendum.
"We will not hesitate to make a much stronger response if such a law is approved,'' he said during a regular press conference.
Zhang declined to elaborate on what measures Beijing would take, but said "all will be known in days,'' as the law is expected to be passed today or tomorrow.
Zhang, however, did refer to a government white paper issued in 2000, "One-China Principle and the Taiwan Issue,'' to demonstrate Beijing's determination to curb any scheme to divide China.
The document says: "If a grave turn of events occurs leading to the separation of Taiwan from China in any name... then the Chinese Government will be forced to adopt all drastic measures possible, including the use of force, to safeguard China's sovereignty and territorial integrity and fulfill the great cause of reunification.''
In an interview with the Washington Post on Friday, Premier Wen Jiabao said Beijing will "pay any price'' to block Taiwan independence.
The latest warning comes as Taiwan's "legislative yuan,'' or the top legislature, is meeting to work on the passage of the referendum law. The session opened yesterday and is due to end tomorrow.
A draft law presented by the pro-independence Democratic Progressive Party, led by Taiwan leader Chen Shui-bian, has proposed to hold referendums on the island's formal independence.
For Beijing, which considers Taiwan an inalienable part of China, the legislative procedure is considered as a move to create legal grounds to split the island from China.
Zhang accused Chen of taking advantage of the legislation to serve his separatist attempt to establish the "republic of Taiwan.''
"We have long been supporting the wish of Taiwan compatriots to be their own masters and pursue democracy,'' he said.
"But if Chen obstinately sticks to a wrong course and takes further steps towards independence, it will inevitably hurt the fundamental interests of the Taiwan public and bring disaster to Taiwanese people.''
At the press conference, Zhang also warned that heightened tension in cross-Straits ties could "temporarily and partially'' affect bilateral economic and trade exchanges.
"We hope the situation will never happen or at least will not last long,'' he told reporters.
However, Zhang reiterated Beijing's long-standing principle up to now of "not letting political disputes affect and interfere with cross-Straits economic co-operation.''
Despite the political stalemate between the mainland and Taiwan, bilateral economic relations have grown stronger over the past two decades.
According to statistics from the Ministry of Commerce, Taiwanese investors have sunk up to US$100 billion on the mainland in more than 62,000 projects.