7 Chinese killed in Moscow fire
( 2003-11-26 23:06) (China Daily)
Seven Chinese students were confirmed dead yesterday in the fire that occurred on early Monday morning in a dormitory at Moscow's Patrice Lumumba Peoples' Friendship University.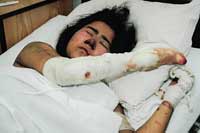 An injured student is hospitalized in Moscow. Seven Chinese nationals have been confirmed dead in the university fire. [Xinhua]

Chinese ambassador to Russia Liu Guchang said yesterday the Chinese students' death toll might rise because some bodies are hard to identify, according to the Ministry of Foreign Affairs.

According to Liu, 43 students are now in 11 local hospitals.

"As far as I know, all the hospitalized students, including both heavily and slightly injured ones, are not on the critical list at the moment,'' said Liu Jiang with the university's China office in Beijing yesterday.

He said there are still two or three students missing.

Meanwhile, an official with the Consular Department of the Ministry of Foreign Affairs said yesterday the first three or four parents have already got visas to travel to Russia.

But he said he does not know exactly when the parents will leave for Moscow. "It is the decision of the parents themselves.''

The official said his department is still helping the more parents get visas as fast as possible.

None of the parents of the injured or dead students need to pay fees for getting visas at the Russian embassy in China, he said.

In addition, the university has promised to cover the accommodation expenses of the parents, he said.

Currently, all the Chinese students living in the affected dormitory are accommodated in other dormitories of the university, Liu Jiang said, adding that, as it is now very cold in Moscow, the university has distributed quilts to the students.

He said the embassy also offered the students clothes and other materials to ward off the cold, including those items donated from Chinese people in Russia.

And each of the students have received 3,000 roubles (US$100) from the university for daily use and they can have free meals at university canteens, Liu added.

Liu said the university has promised to pay compensation for all dead or injured students, but so far there are no details about this.

The fire broke out at about 2:50 am Moscow time on Monday in the dormitory, which is an old-fashioned five-storey house, killing about 36 foreign students and injuring more than 170.