Northeast China gets helping hand
( 2003-11-26 23:06) (China Daily)
The central government showed its commitment Wednesday to breathing new life into Northeast China's struggling economy, agreeing to set up a special department to deal with the vital task.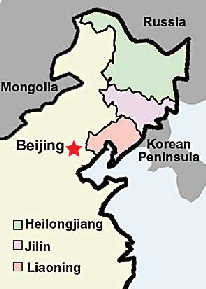 China Daily Graphics

An official surnamed Peng at the Industry Department under National Development and Reform Commission revealed this to China Daily Wednesday.

The move follows the landmark decision of last year's 16th National Congress of the Communist Party of China to put revitalizing the Northeast at the top of the political agenda.

"It's a big step forward to realize the government's goal of revitalizing the old industrial base,'' said Peng.

Peng said the State Council will form a national leading group soon to guide the blueprint.

As other temporary State Council leading groups, taking the Three-Gorges programme, western development programme as well as the South-to-North Water Diversion Project as examples, Premier Wen Jiabao is likely to head China's leading group of rejuvenating the old industrial bases.

The office of the leading group is expected to be located within Peng's commission.

But Peng did not reveal exact timing of establishment of the leading group and office.

The Political Bureau of the Central Committee of the Communist Party of China recently called for accelerated efforts to revitalize the old northeast industrial bases, calling it a long-term and difficult task.

The three Northeast provinces of Heilongjiang, Liaoning and Jilin, known as the "industrial cradle of China,'' played a vital role in the country's industrial development from the 1950s to the early 1970s.

The northeast region produced the country's first steel, machine tools, locomotives and planes after the founding of the People's Republic of China in 1949 and is still seen as having many advantages in these fields.

However, many of the traditional industrial firms established in the 1950s, when China adopted a planned economic system, have been struggling since the country moved towards a market economy two decades ago.

The proportion of the region's industrial output value to the national total has dropped to 9 per cent from 17 per cent. Some loss-making State industries were closed, laying off large numbers of workers.

"It is time to get rid of the effects of the planned economy completely and establish a market-oriented economy, which might be the only solution for these enterprises,'' said Xu Chuanchen, a professor, a researcher into the State-owned sector at Jilin University.

Compared with the past, when State-owned firms in the northeast manufactured products according to State plans, Xu said, currently, they conduct production in accordance with market demand. But, he noted, free transfer of property rights and free circulation of manpower and capital would probably be the most important aspects of the revitalization campaign.