Actor Poe to star in Philippine presidential race
( 2003-11-26 17:05) (Agencies)
Film idol Fernando Poe Jr announced on Wednesday that he will run for president in the Philippines next year, making him a likely flagbearer for the opposition bid to unseat President Gloria Macapagal Arroyo.
Poe, 64, whose lack of political or economic experience is likely to deepen investor concerns about the fragile economy, announced his decision at a Manila hotel to cheers and applause from his supporters.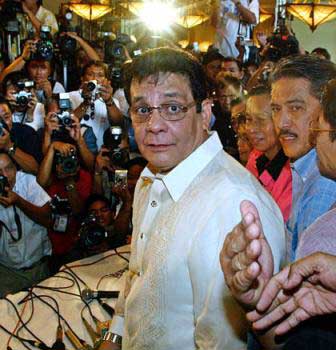 Popular Philippine movie actor Fernando Poe Jr. glances to the crowd after making a brief announcement to run for President in the May 2004 Presidential elections at a Manila hotel, Philippines, Nov. 26, 2003. [AP]


"In a man's life there comes a time when you have to make a very big decision and that day has come," said Poe, whose movie roles as a Robin Hood-style underdog have won him a strong following among the country's millions of poor.

"I, Fernando Poe Junior, will join the presidential race."

Poe will follow in the footsteps of fellow movie star and close friend Joseph Estrada, who won the last presidential election in 1998 but lasted only three years before being ousted by mass protests over corruption allegations against him.

Poe's supporters say he is a clean candidate, untainted by the sleaze and scandals that are common fare in the Philippines' turbulent democracy.

But analysts and investors have expressed concern about his close ties to the camp of Estrada, who remains an influential figure in the mostly Roman Catholic country of 82 million people despite his detention on charges of economic plunder.

"I guess we can expect a further slide from the financial capital markets since it seems everyone's desperate to win in 2004," said Astro del Castillo, managing director of local stockbroking firm First Grade Holdings.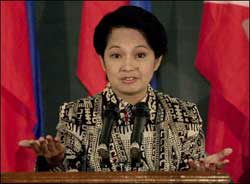 Philippine President Gloria Arroyo is under pressure to lift a freeze on the death penalty to reverse a rising tide of kidnappings or lose key support in the May elections. [AFP]

Underscoring concerns that a volatile election season could weaken the already fragile economy, ratings agency Moody's said on Wednesday it may cut the Philippines' debt ratings on concerns about rising political risk.

The announcement, which Moody's had flagged in September, blew out spreads on Philippine sovereign dollar bonds by 10 to 20 basis points, adding to losses following news last week that respected Finance Minister Jose Camacho would resign.

"In view of the tensions that have accompanied political cycles in the past, the nation's fiscal policy could be handcuffed and capital outflows become more volatile as May's presidential election approaches," the ratings agency said.

The peso fell close to its record low against the dollar on Camacho's departure. Traders say the currency and local bonds have also been hurt by speculation that Poe would run.

Philippine financial markets were closed on Wednesday for a national holiday, but analysts said they were unlikely to be hit hard by the Moody's announcement when they reopen on Thursday.

"We have been saying for some time that there has been a 60 percent probability of a one-notch downgrade before the middle of next year," said Tim Condon, chief economist for Asia at ING Financial Markets.

FOUR-HORSE RACE

Poe's decision means the May polls could turn into a race between the actor, Arroyo, former education secretary Raul Roco and former police chief Panfilo Lacson, another Estrada friend and the other potential leader of the main opposition challenge.

Earlier, business tycoon Eduardo Cojuangco, who had been tipped as another likely opposition standard-bearer, told reporters that he would not be a candidate. Analysts have speculated that Cojuangco could help bankroll Poe's campaign.

Political analyst Joel Rocamora said that he was concerned the actor's candidacy would exacerbate what he said was a trend toward "right-wing populism," but added it could bring some much-needed order to the election process.

"If FPJ (Poe) had decided not to run then the opposition, which represents considerable political and economic interests, might have been tempted to look for extra-constitutional means to topple Arroyo," he told Reuters.

Soldiers protesting against corruption staged an abortive coup in Manila in July, prompting speculation that Arroyo's political enemies were trying to oust her ahead of the election. Political rows have dogged the presidency of the trained economist, the daughter of a former president.

Poe has trailed in recent opinion polls but analysts say he is a force to be reckoned with due to his popularity among the poor in a country where policies play second fiddle to personalities. Estrada's power base was also among the poor.

"I went around the Philippines and I saw what the people need," Poe told reporters after his announcement. "I saw the clamor, I cannot turn my back."

Cojuangco, 68-year-old chairman of the San Miguel Corp, had been seen by some as the most business-friendly candidate, but he had struggled in opinion polls and remains tainted in the eyes of many by his close ties to late dictator Ferdinand Marcos.

"I am not," he told reporters there when asked if he would stand. "We will just leave it to others."