7 Chinese killed in Moscow blaze
( 2003-11-26 15:04) (Xinhua)
Seven Chinese have been confirmed dead in the deadly fire occurred in a Moscow university, according to a news release in the official website of Chinese Foreign Ministry.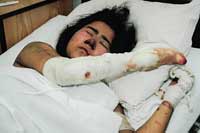 An injured student is hospitalized in Moscow. Seven Chinese nationals have been confirmed dead in the university fire. [Xinhua]

The seven dead included Zhao Haiyan, 51-year-old male professor with Heilongjiang Academy of Social Sciences. The others were mostly young students in their early twenties.

According to the release, staff with Chinese embassy in Russia continued their endeavor to find out injured Chinese students scattering in 11 Moscow hospitals.

Embassy staff also made efforts to identify bodies in a local morgue.

By 21:40pm (local time) last night, some 43 Chinese were hospitalized while three have already been discharged.

Some 36 were died and nearly 200 other injured in the fire happened early Monday at People's Friendship University in Moscow, the capital of Russia.