'Snakehead' sentenced to death
( 2003-11-26 09:15) (China Daily)
TAIPEI: A court sentenced a Taiwanese human smuggler to death and another to life in prison Tuesday for the drowning of six Chinese mainland women dumped into the sea while being chased by the coast guard.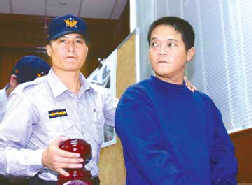 The main accused in the drowning of six mainland women smuggled across the Taiwan Straits, Wang Chung-hsing (right), was sentenced to death by the Miaoli District Court of Taiwan November 25, 2003. Fellow smuggler Ko Ching-sung received a life sentence. [newsphoto.com.cn]

The women's' deaths in August shocked both mainland and Taiwan and prompted a crackdown on the smuggling of mainland women, who usually end up working as prostitutes in brothels or hostess bars.

The defendants were accused of pushing a total of 26 women into the Taiwan Straits off Miaoli County on the island's west coast. Six women died while the others were rescued by the coast guard.

The Miaoli District Court condemned human smuggler Wang Chung-hsing to death and Ko Ching-sung to life in prison.

"Ko received a lighter sentence because he had shown remorse," presiding judge Chen Hung-pin said.

The court also sentenced two crew members of another ship involved in the smuggling case.

Yeh Tien-sheng was sentenced to three years in prison and fined 300,000 New Taiwan dollars (US$8,800). Tseng Chiung-ming received a two-year prison sentence and was ordered to pay NT$200,000 (US$5,900), the court said.

The defendants did not comment on the sentences and didn't say whether they would appeal.