Boeing fires CFO for unethical conduct
( 2003-11-25 11:28) (Agencies)
Boeing Co. on Monday dismissed its chief financial officer for unethical conduct in the aerospace company's hiring of a senior Air Force procurement official.
The No. 2 U.S. military contractor said Chief Financial Officer Michael Sears violated company policies by talking to Darleen Druyun about future employment at Boeing while she was still acting in her government capacity as a procurement officer.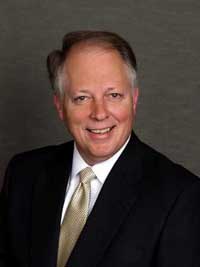 Boeing Co. said Nov. 24, 2003 it dismissed Chief Financial Officer Michael Sears for unethical conduct in the aerospace company's hiring of senior Air Force procurement official Darleen Druyun. Sears is shown in this handout photo. [Reuters]

The company also fired Druyun, who served as an executive in Boeing's missile defense unit for less than a year.

It was another bleak day for Boeing, which has faced difficulties in nearly every one of its business units this year -- from weaker commercial jet deliveries to government investigations of military contracting procedures.

"Compelling evidence of this misconduct by Mr. Sears and Ms. Druyun came to light over the last two weeks," Boeing Chairman and CEO Phil Condit said in a statement.

Sears, who was a member of the four-person Office of the Chairman, worked closely with Condit at Boeing's Chicago headquarters. Sears was said to have greater influence and responsibility than the typical CFO.

His abrupt departure creates questions over whom may ultimately succeed Condit, who is 62.

Sears, 56, had been considered a prime contender for the CEO job upon Condit's retirement. Sears began his career at McDonnell Douglas in 1969 and was president of the company's aerospace business when it merged with Boeing in 1997.

Boeing named James Bell as acting CFO. He has been senior vice president of finance and corporate controller.

ACTION AND REACTION

One investor said the actions were welcome at a time of diminishing tolerance for corporate misdeeds.

"He (Condit) has got to get the confidence of investors back, and this is a good step," said John Murray of Delaware Investments.

Others said it raised additional troubling questions.

"These are the kinds of things you should have in place before the fact...One would have thought after the Raytheon matter that they would have been more concerned about these sorts of improprieties." said Tom Schatz, president of taxpayer watch group Citizens Against Government Waste.

In January, the General Accounting Office said Boeing improperly obtained and used data from Raytheon Co. during bidding for a key contract for the U.S. antimissile shield awarded in the late 1990s.

But Schatz gave Condit good marks for taking action.

"It is certainly difficult to fire your purported successor," he said.

The Air Force underscored the importance of "scrupulous adherence to the letter and spirit" of procurement rules, and said it was considering requesting an investigation.

"The Air Force deplores behavior that jeopardizes the integrity of government procurement activities," said Air Force spokeswoman Maj. Cheryl Law.

Boeing has been indefinitely suspended from bidding on lucrative military satellite launching contracts. Its controversial plan to lease the Air Force 100 air refueling tankers based on its 767 commercial jet platform has been hung up in Congress over concerns it would waste taxpayer money.

Druyun had been with Boeing's missile defense unit in Crystal City, Virginia, since January. Sears worked in Chicago. During her employment with Boeing, Druyun was not involved in the tanker negotiations, according to a company spokesman.

PENTAGON INVESTIGATION

In September, the Pentagon's inspector general said "sufficient credible information exists" to warrant a criminal investigation into improprieties in the Boeing tanker talks.

Defense officials said the investigations focused specifically on Druyun, and whether she improperly shared with Boeing some pricing data from Airbus, which is 80 percent owned by European Aeronautic Defense and Space Co. (EAD.PA) and 20 percent by Britain's BAE Systems Plc (BA.L).

Boeing was sanctioned this year for illegally using a competitor's proprietary documents when it bid for the initial $2 billion Evolved Expendable Launch Vehicle rocket contract.

Boeing shares closed 3 cents higher at $38.89 on the New York Stock Exchange.