Georgians party as president resigns
( 2003-11-24 08:42) (cnn.com)
Georgian President Eduard Shevardnadze has resigned after huge pressure from tens of thousands of protesters.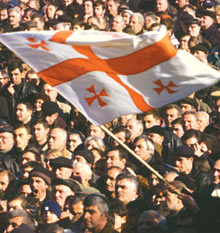 An opposition supporter waves a national flag outside the parliament building during a mass rally in the Georgian capital of Tbilisi November 23, 2003. [Reuters]

Demonstrators outside the parliament building in the capital, Tbilisi, chanted "He has left, he has left" and celebrated with fireworks as news of his resignation was broadcast on large TV screens.

"Today is the greatest day in the history of Georgia -- this is the day of our dignity, the birth of a new Georgia," opposition leader Mikhail Saakashvili told the crowd.

"Let us be proud of our country. I'm sure we all will be proud of today and you, your children, and grandchildren will be proud of this very important stage in the history of Georgia," he added.

Another opposition leader, Nino Burdzhanadze, the last elected speaker of the country's parliament, will lead the government until new elections are held in 45 days.

Shevardnadze's resignation, in what the opposition is calling a "bloodless revolution," ends his 11 years as president of the small former Soviet republic.

He stepped down after meeting key opposition figures and Russia's foreign minister, the president's spokesman said.

The talks between Shevardnadze, Saakashvili and Zurab Zhvania were held at the president's residence and overseen by the Russian Foreign Minister Igor Ivanov.

The president took the "dignified step" after about one-and-a-half hours of talks Sunday, Saakashvili said.

"He understood the shortcoming which we had. He understood we had corruption," Saakashvili added.

The protesters blamed Shevardnadze, who has ruled Georgia since 1992, for a corrupt regime and the poverty that has blighted the once-prosperous nation.

His resignation comes after three weeks of growing protests alleging Shevardnadze fraudulently won the November 2 elections.

Shevardnadze: "Going home"

Images of Shevardnadze signing his resignation papers were broadcast on Georgian television.

TV pictures have been showing a plane being prepared at Tbilisi airport amid speculation that it may take Shevardnadze out of the city.

But Shevardnadze told reporters he was "going home."

He said he resigned to avoid bloodshed and catastrophe: "I'm going home. It's finished.

"At the beginning I had a different mood, but now I see that it is impossible to avoid bloodshed. I never betrayed my people. Now I say it's much better to resign with no bloodshed, no victims."

Opposition leaders have said they have no intention of harming Shevardnadze, a former Soviet foreign minister, and no shots were fired in the overthrow.

Burdzhanadze said her task, and that of the country, would be to work toward maintaining a relationship with the United States and to "keep our foreign policy priorities, to improve our relations with Russia and other neighbors, and keep stability in the country."

Saakashvili, a 35-year-old U.S.-educated lawyer originally groomed by Shevardnadze, said he hoped Shevardnadze would stay in Georgia and that he would be given protection, as he has been the country's face for so many years.

"We want to turn this page of history for this country," Saakashvili said.

Protesters stormed parliament

The crisis had come to a head Saturday when Shevardnadze was blocked from addressing parliament and swearing in a new government after hundreds of demonstrators stormed the chamber.

He was hustled away from the building and taken to his home. He had vowed to fight the protesters, but Saakashvili said a turning point came when "the army switched sides."

Shevardnadze had given the protesters a 48-hour deadline to leave the parliament and called on military units to crack down on demonstrations. But some instead joined the demonstrators and drove through the streets of the capital waving oppositions flags.

The Republic of Georgia, with about 5 million inhabitants, is among the poorest countries of the former Soviet Union. The average daily wage is about $1, while pensioners get less than 25 cents a day.

But geopolitically, Georgia, which wants to join NATO, is of enormous importance.

An international consortium is building an oil and gas pipeline through the country to move oil from the Caspian Sea to a Turkish port. Caspian oil is seen as a way to decrease dependence on oil from the Persian Gulf.