Georgian president resigns amid protests
( 2003-11-24 08:37) (AP)
Georgian President Eduard Shevardnadze resigned Sunday as the opposition threatened to storm his residence. His fall sparked fireworks and dancing among tens of thousands of protesters, and ended a political crisis astonishing for its speed and lack of violence in a blood-washed region.
Shevardnadze's resignation caps a political career during which he won admiration in the West by helping guide the Cold War to an end as Soviet foreign minister under Mikhail Gorbachev. But during 10 years as president of Georgia, he became despised for rampant corruption.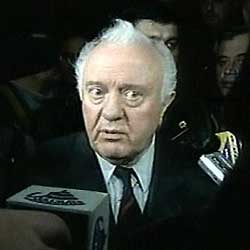 In this image taken from video, Georgian President Eduard Shevardnadze confirms his resignation to reporters at his residence in Tbilisi, Georgia Sunday Nov. 23, 2003. [AP]

Residents of Tbilisi poured into streets and partied late into the night after the resignation was announced, honking car horns and waving flags on the capital's main Rustaveli Avenue. Champagne corks flew, and revelers placed flowers into the machine gun barrels of two armored personnel carriers blocking a street.

The United States and European Union expressed cautious support for the new leaders while urging them to pursue stability, abide by the constitution and hold democratic elections.

Georgia lies at a crossroads important to both the United States and Russia, on the planned path of an oil pipeline between the landlocked Caspian Sea and the ports of the Black Sea. The Caucasus nation has seen two bloody separatist movements under Shevardnadze's rule since 1992.

Throughout nearly three weeks of protests since parliament elections that the opposition said were rigged both sides, mindful of Georgia's history of fatal political conflicts, had pledged to avoid provocations. Shevardnadze said maintaining peace was paramount in his decision to resign.

"I realized that what is happening may end with spilled blood if I use my rights" to use force against the protesters, he said on national television.

"The president has accomplished a courageous act," said opposition leader Mikhail Saakashvili, head of the National Movement. "History will judge him kindly."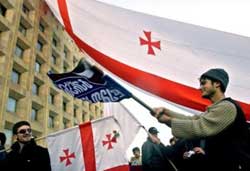 Opposition supporters wave old Georgian flags in front of the Georgian President Eduard Shevardnadze's office in Tbilisi, Sunday, Nov. 23, 2003. [AP]

But by then, it was unclear if police and soldiers would have obeyed an order to use force. Some soldiers joined a crowd of 50,000 opposition protesters who massed in front of parliament Sunday morning as Shevardnadze still clung to power.

The defense minister said the military wouldn't intervene on the president's behalf after opposition supporters on Saturday stormed parliament and declared an interim government, forcing Shevardnadze to flee the building in a nationally televised scene.

Abroad, Shevardnadze found few allies. He has long courted the United States, but Washington condemned the Nov. 2 elections as fraudulent. After the parliament takeover, the United States only called on both sides to avoid violence. Russia sent its foreign minister to mediate a way out.

On Sunday, Saakashvili visited Shevardnadze in his residence outside Tbilisi and told him that if he did not resign, opposition protesters would seize the building. Russian Foreign Minister Igor Ivanov joined them at the meeting. Shevardnadze then signed his resignation.

New parliament elections are planned within 45 days. Until then, an interim government headed by opposition figure Nino Burdzhanadze will run the ex-Soviet republic.

"We look forward to working with Interim President Burdzhanadze in her effort to maintain the integrity of Georgia's democracy as she strives to ensure that this change in government follows the constitution," said State Department spokesman Richard Boucher. A date for the new presidential poll has not been specified.

He said Secretary of State Colin Powell had called Burdzhanadze "to offer our support and to encourage her and her colleagues to proceed in a manner consistent with Georgia's constitution."

The EU's executive European Commission said Shevardnadze's resignation "opens the way to restoration of constitutional law and order" and stressed that democratic elections must be held to help "restore a climate of trust and confidence" in Georgia.

Despite the wide satisfaction over Shevardnadze's ouster, the opposition may have difficulty maintaining unity in a country where political fault lines follow personality and loyalty rather than ideological conviction. Saakashvili and Burdzhanadze worked closely during the weeks of protests in what appeared to be a marriage of convenience.

Further complicating Georgia's politics is the Revival party, which was often at odds with Shevardnadze but even more vehemently opposed to Saakashvili, alleging that he is a fascist.

But for the moment, Shevardnadze's fall meant only one thing to celebrating Georgians. "Freedom," said Irma Merabishvili, a 34-year-old teacher handing out flowers in the street alongside her.

"There was no blood, no killing, everything was peaceful," said Nona Ushuilidze, a 60-year-old university teacher watching the spectacle. "People love each other, they're meeting strangers and all wishing each other luck."

After the elation fades, the new government will face a stern challenge in addressing Georgians' anger over their misery. Georgians widely detested Shevardnadze for allowing corruption to infest the country while most of its people fell into poverty and despair scraping by on tiny pensions or makeshift work, living with sporadic electricity and water.

That anger fed the uprising against Shevardnadze, but it was initially triggered by the fraud-plagued parliamentary elections on Nov. 2. Even as the voting was underway, complaints of widespread ballot-box stuffing and other abuses emerged.

Opposition forces led by the fiery and erudite Saakashvili began daily protests outside parliament that attracted thousands, sometimes tens of thousands, demanding the elections be annulled or that Shevardnadze resign.

Shevardnadze called repeatedly for "dialogue," but gave no sign he would make concessions.

Shevardnadze was firmly Western-leaning, repeatedly expressing aspirations for the country to join NATO and other European structures. But he appeared to resist Western exhortations to try to resolve the political crisis. U.S. officials had repeatedly met with Shevardnadze over the past weeks, to little apparent effect.

This summer the White House sent James Baker, who had been Shevardnadze's counterpart as U.S. Secretary of State during the Cold War, to Georgia to push for his commitment to hold free and fair elections.

During the crisis, Shevardnadze consulted by telephone repeatedly with Russian President Vladimir Putin, with whom he had often quarreled. The decision to resign just hours after the arrival of the Russian foreign minister could indicate the Kremlin is trying to reassert influence in Georgia.

Shevardnadze's former boss, Gorbachev, was quoted as telling Russia's Interfax new agency that Shevardnadze "probably understood that the moment had come for him to make this step so that Georgia would not break up."

"I think he was right," Gorbachev said.