'Every man for himself' leads to tragedy in Dujiangyan
( 2003-11-21 11:01) (China Daily)
Early on the morning of November 5, a young woman screamed for help on a dark street in Dujiangyan, a city in Sichuan Province. She was being attacked by a mugger. Many of the residents who live along the street heard her desperate cries, yet no one responded.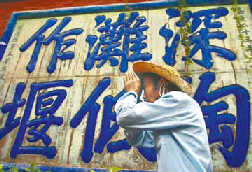 A man prays at a temple in Dujiangyan, where residents' cold-heartedness on November 5 cost a woman's life. [newsphoto.com.cn]

Xiao Zhiguo, the owner of a small restaurant, was already up preparing food for the morning commuters. As the woman ran to his shop, the only lighted place on the street, yelling "Please help me! Someone wants to kill me!", Xiao closed the door and pulled down the window shades. "It's not that I didn't want to help her. I might have been killed, too," he later told the press.

The woman was bludgeoned to death not far from his shop. Huaxi Metropolis News, the Sichuan paper that carried the story, asked Xiao what if he has been that despairing woman begging for help. Xiao replied: "Nowadays it's everyone taking care of himself. If I ever get into this kind of situation, I'll simply be damned."

"On that blood-stained early morning, all righteousness was frozen solid", read one headline.

Although there was an outpouring of indignation at the collective apathy in online forums, some commentators asked, "Would you have reacted differently from the Dujiangyan residents?" Similar incidents have been occurring so regularly that many people take it for granted that others would not risk their own lives to save a fellow human being.

He Guilin, a Chengdu-based lawyer, theorizes that for all the condemnation Xiao deserves he is neither a law enforcement officer nor a public servant. He had no obligation to help. Therefore, we can criticize him on moral grounds but not prosecute him legally.

Others want this changed. They cite some Western countries as models for creating a law that obligates bystanders to offer help if they are physically able to do so.

But that prompts another round of questions: What if a person is injured, paralyzed or even killed in the process of offering aid to a victim? Will he be entitled to some kind of government compensation? What if the victim is ungrateful and turns around to accuse him or her of wrongdoing, as has happened occasionally in the past?

A few years ago there was a proposal to set up a social security mechanism for "Good Samaritans", those whose kindness and bravery result in their own injury or death. But it came to naught.

China is undergoing social change at a rapid pace. The old values of altruism are giving way to a new consciousness of individualism. And sometimes it manifests itself in the most extreme fashion. To bring back the good old days, it may take more than a heart of gold, including some tinkering with the legal and welfare system.

Meanwhile, in Dujiangyan, the city authorities have decided to install lights on that particular street, so that there will be fewer dark shadows where crimes can be perpetrated. And more citizens are installing telephones, to call police when they themselves are too frightened to confront a brick-wielding villain.