Greenspan warns Vs. rising trade barriers
( 2003-11-21 10:25) (AP)
The nation's ability to reduce its soaring trade deficits could be harmed by "creeping protectionism," U.S. Federal Reserve Chairman Alan Greenspan said Thursday, expressing concern that rising trade barriers could make the United States less competitive.
Still, he said the increased ties the United States and other nations have with each other would make it easier to deal with the problems that will occur as the United States reduces its record current account trade deficits.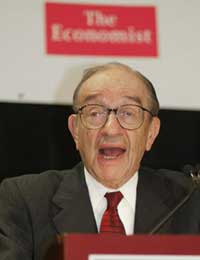 U.S. Federal Reserve Chairman Alan Greenspan addresses a monetary conference sponsored by the Cato Institute, Nov. 20, 2003 in Washington. Greenspan said ballooning trade deficits have not hurt the U.S. economy so far, but he warned that 'creeping protectionism' could jeopardize the nation's ability to narrow the deficits without adverse consequences. [AP]

"Spreading globalization has fostered a degree of international flexibility that has raised the possibility of a benign resolution to the U.S. current account imbalance," Greenspan said in his speech to a monetary conference at the Cato Institute.

But Greenspan said this beneficial flexibility could be jeopardized by pressure to erect trade barriers to protect U.S. industries from foreign competition.

"Some clouds of emerging protectionism have become increasingly evident on today's horizon," Greenspan said.

Greenspan did not single out the protectionist moves that concerned him. But the Bush administration has been criticized by open trade supporters for imposing high tariffs on foreign steel to protect the U.S. industry and by this week imposing quotas on certain types of Chinese textiles and clothing in response to pleas from the U.S. textile industry.

The Chinese action has prompted China to cancel a planned trade mission to the United States to sign contracts for soybeans and other farm products and also led a Chinese threat on Thursday to boost tariffs on some U.S. products in retaliation, raising the specter of a tit for tat trade war.

U.S. Treasury Secretary John Snow insisted that the administration was not backtracking from its support for free trade, arguing that the moves on steel and textiles had been taken to enforce global trade rules.

"I don't know of any administration that has been more forceful, more vigorous in trying to promote the ideas of free trade," Snow said in an interview with The Associated Press.

In his speech, Greenspan said that throughout history domestic industries have sought government help to fight off foreign competition, only to find that these efforts were eventually overwhelmed by free market forces.

"It is imperative that creeping protectionism be thwarted and reversed," he said.

Greenspan said nothing in his remarks about the current state of the economy. The Fed has pushed interest rates to a 45-year low and most analysts believe the central bank will leave rates at low levels perhaps into next fall, in an effort to assure a sustained economic rebound.

Greenspan said that the current account deficit, the country's broadest measure of trade, is running at a level equivalent to 5 percent of total U.S. economic output. That is far above the previous record level of 3.5 percent set in 1986.

In dollar terms, the current account trade deficit hit a record of $480 billion last year and is on track to be well above that mark this year.

Greenspan said this big increase in the trade deficit had been "seemingly uneventful" so far with interest rates in the United States remaining low and no signs of inflationary pressures despite the fact that the dollar has fallen by 20 percent against other major currencies over the past two years.

"Inflation, the typical symptom of a weak currency, appears quiescent," Greenspan said.

Greenspan said as long as the U.S. economy remained flexible, it reduced the risk that foreigners would suddenly lose interest in loaning the United States money.