Some Britons shocked at Queen's decor
( 2003-11-21 09:43) (AP)
A tabloid reporter's tale of working undercover as a Buckingham Palace footman has deeply shocked British commentators.
That wallpaper!
That Tupperware and plastic yoghurt pot on Her Majesty's breakfast table!
That "eat, drink and remarry" pillow in Prince Andrew's sitting room!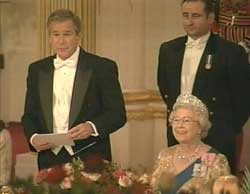 U.S. President George Bush, left, speaks alongside Britain's Queen Elizabeth II at a white-tie banquet held in Bush's honour at Buckingham Palace in London in this image made from television Wednesday, Nov. 19, 2003. [AP]

Thursday's newspapers had plenty of comment on the style ¡ª or lack of it ¡ª inside the palace. Never mind the security implications of servants being hired despite giving false references.

The Daily Mirror's scoop in having reporter Ryan Parry work undercover as a royal footman for two months won the ultimate tribute from rival newspapers, which quoted at length and reprinted several of the pictures that Parry snapped while on duty.

"Have you seen that wallpaper?" Andrew Anthony wrote in The Guardian.

"To gaze at the red and pink flock paper that adorns the walls of Prince Andrew's bedroom is to be transported back to 1973 in the unused upstairs room of your local pub where tuneless rock bands used to practice," Anthony wrote.

Walter Bagehot, a 19th-century political commentator, had warned against this kind of scrutiny.

"Above all things our royalty is to be reverenced, and if you begin to poke about it you cannot reverence it," he wrote. " ... Its mystery is its life. We must not let in daylight upon magic."

Buckingham Palace went to court Thursday, winning an injunction to stop the Daily Mirror from printing any more of Parry's discoveries pending a full hearing.

This week's stories weren't as damaging as years of coverage of the Charles and Diana marriage, or the photos of a topless Duchess of York, or the recent kerfuffle over the unpublished rumor so firmly denied by Prince Charles.

But as the nation contemplated the wallpaper, the mystique of the monarchy died a little bit more. It was all so suburban, so yesterday.

"'Footman' exposes Tupperware secret of the queen's table," said a headline on The Daily Telegraph's front page.

"Chief among the victims were the Earl and Countess of Wessex (Prince Edward and his wife, Sophie), who ¡ª it is now known ¡ª share their bedroom at the palace with a wooden wall unit and like to adorn their bed with furry bears and dogs," The Daily Telegraph said.

The Daily Mail annotated a photo of a royal breakfast table, noting the adjustable lamp ("circa 1975"), the plastic containers of cereal, the pot of yoghurt, the portable radio and the "old-fashioned telephone."

"These are constant reminders of bygone years when the lives of the royals were so much gentler and less troubled," the Daily Mail's report said.

"The poor dear queen can't win," Lucia van der Post wrote in The Times. Either she redecorates, and is criticized for extravagance, or does nothing and is derided as a fuddy-duddy.

"But the real trouble with the little bits we see is not that they're out of date, it's that most of us have trouble understanding how anybody in her right mind could have chosen them in the first place," van der Post wrote.

"The real importance of the story is nothing to do with security," The Independent said in an editorial. "It is that it is yet another example of the Brits' unerring ability to focus on what really matters: in this case, the queen's breakfast habits."