Blasts hit Istanbul, 15 dead - TV
( 2003-11-20 18:28) (Agencies)
Two blasts rocked Istanbul on Thursday, killing at least 15 people and devastating both the HSBC Bank headquarters and British consulate in an apparent suicide attack Britain linked to Islamist militants.
Turkish television, quoting city health officials, said that besides the 15 killed, 320 people were injured.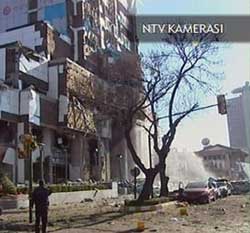 The damaged HSBC bank in Istanbul, Turkey, is seen in this image made from television, Thursday, Nov. 20, 2003, following an explosion. [AP Photo/NTV via APTN]

British Foreign Secretary Jack Straw said the strikes bore "all the hallmarks of the international terrorism operations practiced by al Qaeda and associated organizations."

The blasts, coinciding with a British visit by President Bush, were the second such strike in Muslim Turkey in five days. Turkey's interior minister said he saw a connection with weekend attacks on two Istanbul synagogues that killed 25.

Men and women wept, nursing their wounds, and bodies lay amid a chaos of wreckage outside the towering Istanbul headquarters of HSBC, the London-based global bank. Witness accounts suggested the blasts could be suicide bombings.

Firefighters were working to put out a fire inside the 12-storey building, which was charred and black from the explosion. Twisted pieces of cars and broken glass lay across the street outside the building.

"The windows just exploded, everything exploded. I think there must be dead but I don't know the number," said one banker who worked in the HSBC building.

Turkish Foreign Minister Abdullah Gul said Turkey would not bow to terror. "Everyone must know that we will not give up to terror," he said in Stockholm.

CNN-Turk television said many were badly wounded in the blast at the British consulate. Straw said three or four people were unaccounted for in the building.

Hakan Kozan, 29, said he saw a white truck speeding toward the site of the consulate blast around 10 seconds before the explosion.

"There was a great blast, massive blast," Kozan said.

Witness Mehmet Celik told CNN Turk he saw a brown Skoda van with an open back driving toward the British consulate seconds before the blast rocked the building. He was standing about 10 meters (yards) from the site.

CNN showed bodies covered in blood being carried away.

Saturday, two trucks packed with homemade explosives detonated outside the Beit Israel and Neve Shalom synagogues in Istanbul, killing 25 people and wounding hundreds more.

A unit of Osama bin Laden's al Qaeda network claimed responsibility for the Saturday attacks and warned that the Islamist network was planning more attacks against the United States and its allies.

The White House said it was monitoring the situation closely in Turkey.

Turkey is one of Washington's closest political and military allies in the Muslim world -- a relationship that singles it out as a possible target for Islamist militants.

Its government has Islamist roots but its policies are strongly pro-Western. It stepped back, however, from allowing U.S. troops to use Turkish soil for March's U.S.-led invasion of neighboring Iraq.

There was no explicit link between Bush's visit to Britain and the blasts Thursday and Saturday. But intelligence officials have long feared militants could launch attacks on "soft targets" in countries such as Turkey.

The attacks could deal a tremendous blow to a Turkish economy only now struggling from recession and facing still huge debt repayments over the next year. A tenuous return of foreign investment could be put at risk by any continued atmosphere of danger.

The Istanbul stock exchange was closed after the explosions, but not before the stock index had dived 7.37 percent amid panic sales. Banks ceased quotes on the Turkish interbank foreign exchange market.

Hasan Baskan, a hairdresser who worked across the street from the HSBC blast, said: "I was cutting my customer's hair when suddenly the windows blew in. We were knocked off our feet and glass rained down on us."

Employees said they had heard other HSBC branches had been targeted on the Asian side of Istanbul.