Lawsuit fires up in case of vanishing virtual weapons
( 2003-11-20 08:38) (China Daily)
When people get earnest about playing, it's either a sign of potential trouble or profit possibilities. In this case, the two have merged into one scenario.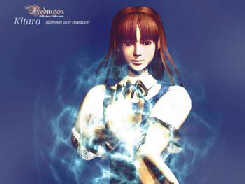 Invincible: Virtual world heroine

Early this year a 23-year-old Internet game-player filed a lawsuit with Beijing's Chaoyang Court, charging his online game provider with failure to protect his "possession of biological weapons". The plaintiff asked for restoring "all the equipments" that he had accumulated plus 10,000 yuan (US$1,200) in emotional damage.

Li Hongchen does not collect the kind of biological weapons that George W. Bush accused Saddam Hussein of secretly hoarding. In the past two years, he had spent thousands of hours and tens of thousands of yuan playing RedMoon, a game provided by Arctic Ice Technology Inc. As a result he had gathered or bought dozens of virtual biological weapons of one kind or another, which made him invincible in the virtual world. In February when he entered the virtual battleground, he found all his weapons gone.

It was discovered that another player, whose code name is SHUILIU0011, had stolen Li's collection. But the game provider refused to reveal that person's true identity.

About the lawsuit, the defendant claims that:

a. Li did not register under his real name and therefore cannot prove he is the victim of the theft;

b. He cannot prove there was such a virtual larceny; and

c. Even if this were true, the company has laid down rules of immunity from such liabilities.

There have been court hearings, but the judge has not reached a verdict yet. That has not prevented pundits from offering their perspectives.

Online games are fast becoming a serious business. How serious? About one billion yuan (US$120 million) a year and growing exponentially. It has overtaken online advertising as the single largest source of revenue for websites.

The Li vs Arctic Ice case is the first of its kind in the nation. In essence it challenges the traditional notion of "private property".

"I feel that, in the legal sense, it does not count as property. These are points that you collect when you play the games. They do not have any value unless placed in the context of a certain computer program. Even though one's points usually move up with one's playing time, there is no equation between the money spent on playing and the number of points gained," said Zhang Qingsong, partner with Beijing Puhua Law Firm.

Wang Zongyu, associate professor at Renmin University of China, has a different opinion.

"The player has spent time, money and energy in gaining these tokens. They carry value and can be exchanged or traded between players. It is a form of virtual property, much like intellectual property."

Zhang Qingsong explains that these "weapons", or points, represent a right that the player can get to a certain level and play with a certain degree of ease or excitement. Even though they may have economic value among players, current law does not specify its legality.

"Game playing is getting bigger and bigger. There are professional players who make a living out of it. As long as it is legal to engage in the activity, the proceeds from it should be considered legal," argues Ma Jiangtao, partner with Dacheng Law Firm.