Advertisers on spending spree
( 2003-11-19 10:37) (Eastday.com)
Over 1,000 media buyers and individual advertisers bid a record amount of money at an annual auction for advertising time on CCTV Tuesday.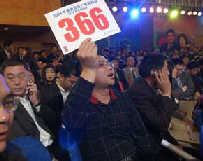 A bidder raises his bidding card at the China Central Television's (CCTV) 2004 annual billing conference in Beijing November 18, 2003. The annual event of China's biggest TV station lasted for almost 12 hours due to many prime time advertising slots and fierce competition, which was forecast to raise 3.3 billion yuan (US$399 million) for CCTV. [newsphoto.com.cn]
Long considered a barometer of the domestic ad market, advertisers bought more than 4.41 billion yuan (US$531.9 million) worth of ad time for 2004 at the event, up 33.3 percent from last year.
Inner Mongolian-based Mengniu Co Ltd, one of China's largest dairies, was the biggest spender at the event, buying up more than 300 million yuan worth of ad time.
Yili Corp, another dairy, was the second-biggest bidder, spending 200 million yuan.
Mobile phone maker Panda Electronics Group and liquor maker Wuliangye Liquor Co Ltd were the next highest bidders.
"People are confident about the domestic economy, which is the major driver behind ad spending,"said Guo Zhenxi, of CCTV's advertising department. "The cut-throat competition in some industries was reflected at the auction."
China Central Television began auctioning off ad time in 1995. It has helped some brands become household names such as Wahaha beverages, Naobaijin health food and Haier home appliances.
Liquor maker Qinchi and VCD manufacturer Idall, on the other hand, are struggling with debt built up buying ads over the years.
"Companies have become more rational in recent years. They no longer blindly splash money on ads," said Pan Gang, Yili's president, during an interview with sina.com.
As usual, it was hard to find foreign companies at the auction. Though Procter & Gamble Co participated in the event, it did not win any major slots.
"Global companies rarely take part in the annual auction because they prefer a fixed price," said one media buyer. "Besides, CCTV's audience has a sharply different purchasing power in different territories."
"Furthermore, CCTV is losing audience share in more developed areas," the buyer told Shanghai Daily.