Chinese internet firms line up for IPOs
( 2003-11-18 10:24) (China Daily HK Edition)
History often repeats itself, and the initial public offering (IPO) tide now surging through China's Internet sector suggests a case of deja vu all over again.
In 2000, at the peak of the Internet boom, more than 20 dotcoms in China set their sights on listing on overseas stock markets, but only Sina Corp, Sohu.com and Netease.com have realized that dream.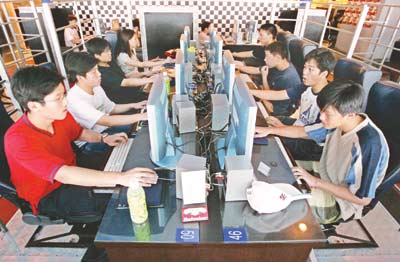 Internet surfers at an online shop in Shanghai. China has the world's second-largest Web population after the United States. [newsphoto.com.cn/file]
Just three years later, however, overseas public offerings have once again become a hot topic among Chinese Internet companies.
Justin Tang, chairman of Beijing-based travel and entertainment information provider eLong.com, expressed a strong desire to launch an IPO on the NASDAQ.
"An IPO is an important or necessary step in the development of an enterprise. Under the appropriate conditions, we would seriously consider the possibility."
Although Tang declined to discuss such a move in detail, he added, "Now that both internal and external circumstances are favourable, we should actively pursue it.".
Among the many dotcom firms trying to go in for a public listing are Internet search engines Baidu.com, 3721.com, electronic commerce operator Joyo.com, and the biggest online games operator, Shanghai Shanda Networking.
Zhou Hongyi, chairman of Chinese Keyword service provider 3721.com, which is rumoured to be a Yahoo acquisition target for US$100 million, recently said his firm was considering an IPO in either Hong Kong or Singapore.
"To be frank, we are not short of money. Our major goal would be to mature and become a more rational operation, with more resources and business management support," Zhou said.
The company claims that 90 per cent of Chinese Internet browsers use its real name service, which enables them to type in the Chinese name of an organization, instead of its cumbersome domain name, and then visit its website.
Last year, the business posted about 140 million yuan (US$16.9 million) in revenues, Zhou said, though he did not provide the profit figures.
Investing enthusiasm
While Internet companies renew their IPO fervour, foreign investors are also investing in these companies, preparing to gain from future listings.
US venture capital firm Tiger Technology Fund has been one of the more ambitious investors.
The Chinese business-to-consumer website Joyo.com said on October 16 that Tiger had injected 52 million yuan (US$6.28 million) into Joyo to become one of its top investors, after domestic software vendor Kingsoft and computer giant Legend.
Industry sources reveal that Tiger Technology Fund holds about 20 per cent interest in Joyo, while Kingosft and Legend control about 50 and 20 per cent, respectively.
"With investments from partners like Tiger Technology, Kingsoft and Legend, we have laid a stable foundation for future manoeuvres in capital markets at home and abroad, and this will no doubt become a strong driving force in our takeoff," said Lin Shuixing, president of Joyo.com.
He said his company has been making a profit since the second quarter and would register an annualized 70 per cent growth in revenues this year, based on a "conservative estimate".
Last year, Joyo.com's revenues reached nearly 100 million yuan (US$12.08 million), while the figure for the first nine months of this year has already exceeded 105 million yuan (US$12.68 million).
Two months ago, Tiger Technology Fund and Blueridge Capital invested US$15 million in eLong.com.
Softbank Asia Infrastructure Fund invested in online games provider Shanghai Shanda Networking in March, pouring in US$40 million for a roughly 25-per-cent stake, the largest single venture capital investment in a Chinese Internet company to date.
Bright prospects for China's Internet industry and the solid performances of China's top three portals listed on the NASDAQ are encouraging other firms to launch IPOs, said Michael Yin, a senior analyst with Shanghai iResearch Co Ltd, a consulting firm specializing in the development of the Internet in China.
"China had an Internet population of 68 million at the end of June, but our estimate for 2005 is 126 million, and you can see the huge potential here," said Yin.
China model
Online advertising, one major area of business in the Internet industry, stood at US$60 million last year according to iResearch, but it will grow by 50 per cent this year to US$90 million and further expand to US$162 million by 2007.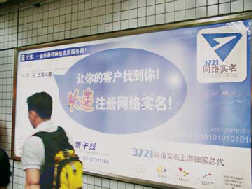 A man walks past an advertisement for 3721.com, which is among the Chinese portals' planning to list abroad. [newsphoto.com.cn]
At the same time, while most dotcoms were struggling to find practical business models after the Internet bubble burst in 2000, many Chinese Internet companies established their own models and have since begun to claim profitability.
While mobile messaging services continue to help Sina Corp, Netease and Sohu out of heavy losses, Timothy Chan (Chen Tianqiao), head of Shanghai Shanda Networking, has been ranked the tenth richest person in China due to his success in tapping the online games market.
Search engines Baidu.com and 3721.com also reported escaping the red in the second quarter.
"Both Internet users and enterprises are discovering the importance of the Internet and they are willing to pay for any service they consider helpful," said Michael Yin.
The sharp rise in stock prices of the three NASDAQ-listed Chinese Internet portals are luring their peers to follow suit to catch the recovery tide.
Over the past year, the prices of Sina, Netease and Sohu stocks on the NASDAQ have risen by 11, six and seven times, respectively, by November 7, increases mainly supported by the growth of their revenues and profits.
Sina's third quarter revenues rose by an annualized 208 per cent to US$31.9 million, while its profits also reached US$11.7 million, compared with net losses of US$559,000 one year ago.
Netease's revenues and profits also grew to US$17.7 million and US$9.2 million, respectively, in contrast to US$9 million and a negative US$1.3 million for the same period last year.
Sohu, meanwhile, notched up US$22.1 million in revenues and US$49.2 million in profits, compared with US$7.5 million and US$112,000 in the third quarter of 2002.
"The performance of major Internet companies on the NASDAQ is quite bullish, and it is not a bad idea to take advantage of it," said Wang Ran, chief executive officer of China eCapital Corp, a leading domestic investment consulting firm in Beijing.
Multiple push
The venture capitalists backing the Internet companies are also pushing for IPO listings.
Since foreign capital is strictly regulated in China's capital market, overseas IPOs are more frequently pursued and represent the best exit channel for venture capitalists.
With the robust growth trend of the NASDAQ composite index recently, good times seem to be returning for the Internet industry.
In addition to catching a ride on this favourable wave, the threat of competition is another factor motivating companies to seek listings.
"Most Chinese Internet companies run their businesses on a small scale, so when the big companies want to enter a market, they can easily gain access through acquisitions thanks to their huge cash reserves," said Fang Xingdong, a pioneer of China's Internet industry and chairman of the industry consulting firm ChinaLabs.com Ltd.
As a result of the top three Chinese Internet companies - Sina Corp, Netease.com Inc and Sohu.com Inc - issuing a total of US$265 million in no-interest bonds on the US NASDAQ market in July, they will have more capital to allocate towards acquisitions.
At the same time, recent speculation that Yahoo might buy 3721.com for US$100 million has stoked fears among the smaller Internet firms now looking for a shortcut to quick expansion.
However, Lu Benfu, director of the Internet Development Centre under the Chinese Academy of Social Sciences, warned of making any rash moves.
"Most of those firms talking up overseas IPOs are operating on a small scale and their businesses are quite weak," said Lu.
"It is difficult to envision the future of competition in their sectors and the market trends.
"With a rash IPO listing, they may fail to meet the requirements of the market and investors, and expose themselves to greater risks."
Soaring ahead
An ever increasing number of Internet users forms the foundation for the growth of the Chinese Internet sector.
Currently, wireless data services - including short messaging services (SMS), multimedia messaging services (MMS) and wireless application protocol (WAP) - online games, and online advertising are the main growth engines driving China's Internet industry.
SMS has already undergone an explosive period of growth, and service providers' SMS business will continue to advance at a rate of more than 30 per cent for the next two to three years before it gradually slows. A recent announcement by China Mobile to stop the "SMS Union" between service providers (SP) and personal websites is only a minor policy change.
Some SPs' WAP and KJAVA businesses have experienced sudden and sharp increases over the past couple of months, recording a monthly revenue growth rate in excess of 100 per cent and signalling the advent of a new wireless data services market, including WAP, KJAVA and MMS.
In the years 2003, 2004 and 2005, the wireless data services market for SPs should reach an estimated US$332 million, US$551 million and US$909 million, respectively, registering successive annual growth rates of 249 per cent, 66 per cent and 65 per cent.
Research indicates that the Chinese online games market earned approximately US$216 million in 2002, while the number of fee-paying game players fell just short of 4 million, making up 6.3 per cent of all Internet users. By 2005, the Chinese online games market will generate US$920 million, with 13 million paying users, or more than 10 per cent of the total number of Internet users. The market's average annual growth, meanwhile, will exceed 60 per cent.
Currently, "Legend of Mir II", "MU" and "West Journey II" are the three most popular online games in China. Netease's "West Journey II" has particularly benefited from good market promotion and the summer holidays this year. The number of peak concurrent users is now close to 200,000.
Online advertising
China's online advertising market includes both the web page advertising market and the paid search market. In 2002, both advertising segments began to experience accelerated growth, with web page advertising increasing by 50 per cent annually and the paid search market exceeding 100 per cent. China's online advertising market is expected to reach US$131 million in 2003 and US$310 million in 2005.
Adding all of the sub-industries of the Internet service sector together (with the exception of Internet service providers and e-commerce), China's overall Internet service market will register US$451 million in 2002, with an estimated US$975 million, US$1.58 billion and US$2.63 billion projected for 2003, 2004 and 2005, respectively.
At an annual growth rate of 116 per cent, China is one of the fastest growing Internet markets in the world. Huge user numbers, page hits and other advantages mean the three main Chinese portals - Sina, Sohu and Netease - will achieve a combined average growth rate no lower than that of the entire industry in the next two to three yeas.