Record number of satellites to lift off
( 2003-11-14 22:22) (China Daily)
China is expected to send up to 11 satellites into orbit over the next 14 months, before it stages its second manned space mission in 2005, a top aerospace official told China Daily on Friday.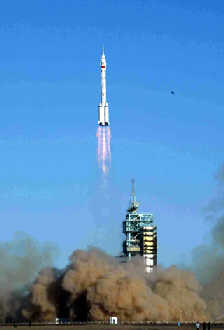 China's first manned spaceship - Shenzhou V (Divine Vessel V) blasts off into space at the Jiu Quan Satellite Launch Center in Northwest China's Gansu Province at 9:00am October 15, 2003. [Xinhua]
Zhang Qingwei, president of China Aerospace Science and Technology Corp, said that within a couple of days, the country will send a communications satellite into space, followed by a geospace exploration satellite in December.
The planned lift-offs, together with two others staged since China's first manned spaceflight on October 15, will bring the number of space launches in a month to a record high, Zhang said.
"The active space programme reflects our experience and expertise, especially our confidence in the quality and reliability of Chinese launch vehicles and spacecraft,'' said Zhang, whose company is the major manufacturer of China's four unmanned and one manned spacecraft and carrier rockets.
Zhang said he is upbeat about the upcoming launch scheduled for a few days' time.
Already the Long March 3A rocket, which will send the communications satellite into orbit, has been used in seven launch missions, all successfully, he said.
The communications satellite will lift off from the Xichang Satellite Launch Centre in Southwest China's Sichuan Province, Zhang said.
The launch will be the 74th by the country's Long March carrier rockets since 1970, and the 32nd consecutive successful launch since October 1996, he said.
Zhang, who is also deputy chief commander of the country's manned space programme, said on Friday China will not conduct spaceflights in 2004.
He did not say why, but confirmed that a second manned mission is scheduled for 2005.
China's first manned spacecraft -- Shenzhou-V -- carried one astronaut into space and returned to Earth safely after circling the planet 14 times on a 21-hour mission. But Shenzhou-VI will spend five to seven days in space with more than one person aboard, Zhang said.
Wang Liheng, director of the Science and Technology Commission under Zhang's company, said the number of astronauts to be sent into space on the second manned flight would be decided after experts completed analysis of the data collected from Shenzhou-V.
After drastically improving the quality of satellites and reliability of their launch vehicles over the past three decades, Chinese scientists have been able to substantially shorten the time interval between two launches, Zhang revealed.
In the past, when a satellite and a rocket were transported to a launch centre, it used to take ground scientists up to two months to test the rocket and erect the assembled parts on the launching pad to be checked again.
Testing time reduced
The testing system is so improved scientists can dispense with the ground checks and test a carrier rocket and its payload on the launching pad, Zhang said.
"This has reduced the testing time to 20 to 30 days, meaning that we can conduct a launch mission every 20-something days,'' he said.
The turnaround time between two launches is one of the fastest in the world, Zhang claimed.
It will give the Chinese commercial launch service provider an edge in vying for customers, as some clients are sensitive about the time interval between launches, he said.
More importantly, the increased efficiency of satellite launch centres will allow China to send more satellites into orbit over a given time -- at a lower cost -- to cater to national economic development, Zhang said.
He said China plans to develop at least 30 satellites by the end of 2005.
As demand for satellites in the country soars, China is projected to launch around 10 satellites a year during the 2006-2010 period, compared with an annual average of five launches between 2001 and 2005, he said.
"To serve national economic growth, defence and scientific research purposes, the country will send up to nine satellites into space next year alone,'' Zhang said.
The satellites in the pipeline include APSTAR VI, made by the French-based Alcatel Space for APT Satellite Co Ltd in Hong Kong. It is China's first foreign-made satellite employing technology to prevent sabotage, according to Liu Zhixiong, vice-president of the China Great Wall Industry Corp, China's sole launch provider.