Taking tilt out of trade
( 2003-11-13 22:02) (China Daily)
The increasing trend towards a balance in China's foreign trade will not change despite the surplus surging again in October.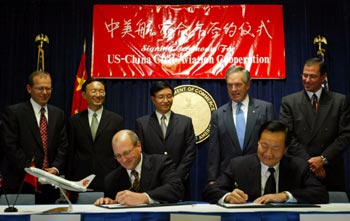 Representatives of the Chinese AVIC I Commercial Aircraft Co Ltd and GE Aircraft Engines ink a billion-dollar deal on Wednesday to supply GE engines for ARJ21, China's new regional jet aircraft. Zhang Guobao (third from left standing), vice-chairman of China's National Development and Reform Commission, and US Secretary of Commerce Donald L. Evans (right of Zhang), attended the signing ceremony for the contract. [Xinhua]

China's monthly trade surplus swelled to US$5.74 billion for October, far above September's US$290 million and the largest monthly total for the year to date.

Exports for October surged 36.7 per cent year-on-year to US$40.93 billion and imports rose 39.7 per cent year-on-year to US$35.19 billion, Customs officials said.

For the January to October period, exports rose 32.8 per cent year-on-year to US$348.6 billion while imports were up 40.4 per cent at US$333.73 billion.

The surplus in the first 10 months was US$14.87 billion, compared with US$24.7 billion for the same period last year.

Li Yushi, vice-director of the Chinese Academy of International Trade and Economic Co-operation, said the ballooned surplus last month, unusual for this year, will not change China's aim to achieve a foreign trade balance.

He attributed the export surge to exporters' rush to sell out their goods before the new tax rebate system comes into effect.

The new rebate system, announced by the government last month and due to take effect on January 1 next year, would cut the refund rate by an average 3 percentage points.

It is believed that the new system will increase the export costs of Chinese manufacturers and curb their desire to export.

Li predicted that the total foreign trade volume of China for the year will reach US$780-800 billion, up 25 per cent year-on-year.

The expected volume will make China the fourth biggest trading country in the world.

Trade surplus will shrink sharply to around US$10 billion this year.

Li even predicted that China's foreign trade may reverse into a small deficit in 2004.

Coupled with slowing exports next year, imports will keep a fast growth because of continuing robust demand, turning the long trade surplus into the predicted deficit next year, he said.

He believed the small deficit will not have impact on Chinese economy, if it keeps a reasonable composition.

The Ministry of Commerce, the watchdog of the country's foreign trade, has said many times this year that China hopes to achieve a balance in its exports and imports and has done a great deal of work to try and bring this about.

The Minister of Commerce Lu Fuyuan said China will be a larger importer this year.

China will import over US$1,000 billion worth of goods in the coming three years.

China imported 74.15 million tons of crude oil in the first 10 months of this year, up 30.3 per cent from the same period of last year.

Oil product imports soared 49.3 per cent year-on-year to 23.74 million tons in the January to October period.

Steel imports in the first 10 months surged by 51 per cent to 31 million tons.