Deals inked: Boeing, Auto Big 3 are handful
( 2003-11-13 14:39) (chinadaily.com.cn/Agencis)
In a buying spree aimed at easing trade tensions with the United States, China signed contracts worth US$1.7 billion with Boeing and General Electric to buy 30 Boeing 737 planes.
Five Chinese airliners will get the 30 Boeings and GE will supply the engines.

In a related deal on Wednesday, China signed contracts with GE's Aircraft Engines division to supply engines for a new regional aircraft China is developing. The engines could be worth as much as US$3 billion over 20 years, officials said.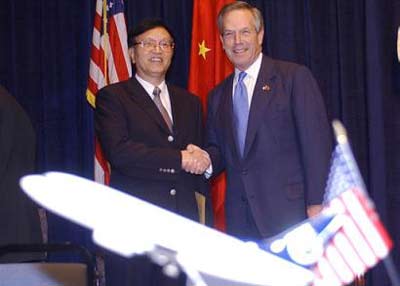 Zhang Guobao (left), vice chairman of China's National Development and Reform Commission, shakes hands with U.S. Commerce Secretary Don Evans, during a news conference in Washington Wednesday, Nov. 12, 2003, to announce China plans to buy 30 Boeing 737 planes as part of a multibillion-dollar deal with several Chinese airlines. [AP Photo]
The announcements follow earlier word that Detroit's Big Three automakers have reached trade pacts with Chinese companies that will allow them to export thousands of vehicles and increase their stakes in a growing automotive market that eventually would become the world's largest.
The multi-billion dollar deals reflect a loosening of import restrictions by the Chinese government as it is making concrete steps to balance the Sino-US trade.
At the same time, automakers and other manufacturers are trying to increase their presence in China, which this year is expected to pass Germany as the world's third-largest vehicle market behind the United States and Japan. China is the fastest-growing aviation market in the world and expects to open as many as 100 airports over the next decade.
At a signing ceremony Wednesday at the U.S. Commerce Department, Commerce Secretary Don Evans called the Boeing and GE deals landmark events in US-China relations.
Evans noted that he met with Chinese Premier Wen Jiabao last month in Beijing, where he said that China is expected to make a greater effort to honour the market-opening commitments it made to gain entry into the World Trade Organization.
``These latest commercial sales are a sign that China wants to build a stronger trade relationship with the United States,'' Evans said. He called the contracts a ``big victory'' for Boeing and GE, as well as the American people ``and the people of China.''
Zhang Guobao, vice chairman of China's National Development and Reform Commission said the airplane contracts would bring jobs to the United States and help China meet a sharply growing demand in air travel.
But Zhang said the overall trade situation between China and the United States is less than ideal and called on US officials to relax trade restrictions against China that he called ``discriminatory and unnecessary.''
Zhang complained that the United States had canceled a satellite deal with US manufacturers because of concerns that the technology could be used for intercontinental missiles.
While American consumers benefit from low-cost shoes, toys, household electronics and other goods made in China, high-end trade between the two countries is still limited, Zhang said.
Evans did not directly address Zhang's remarks, but Tim Hauser, a deputy trade undersecretary for the Commerce Department, said the remarks showed that China is a true friend that can exchange frank remarks.
Under the Boeing deal, five Chinese airlines would receive 30 planes by 2006. Air China would get five, Hainan Airlines would get eight; Shandong Airlines seven; Shenzhen Airlines five; and Xiamen Airlines five.
The China deal is Boeing's second-largest commercial order this year. Boeing also won approval Wednesday of a long-delayed deal for the US Air Force to lease and buy 100 converted 767 jets as midair refueling tankers.
GE envisions a potential market of 500 ARJ-21 regional jets, a new aircraft now under development and scheduled for flight-testing in 2006.