GM, Ford, to export thousands of vehicles to China
( 2003-11-13 10:56) (Agencies)
The top two US automakers announced plans to export thousands of vehicles to China as that country moves to open up its market to foreign competition.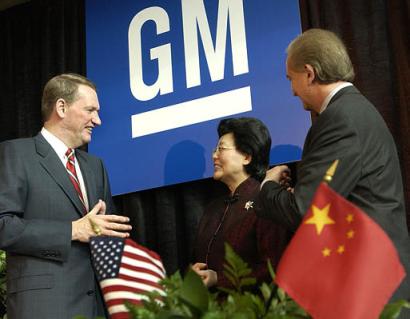 General Motors Chairman & CEO Rick Wagoner, left, and (C) and GM Vice President of North America Gary Cowger, flank Chinese vice minister of commerce Ma Xiuhong at GM's World Headquarters at Detroit's Renaissance Center, Wednesday, November 12, 2003, after an agreement was signed. The agreement makes GM China the first China-based subsidiary of a non-donestic automotive company to sign such a vehicle import contract. [AP]

General Motors Corp. and the Ford Motor Co. announced they had signed agreements with their joint venture partners in China to export vehicles between now and 2006.

GM said it would export more than 5,000 of its luxury Cadillac and Buick models in 2004 and 2005, both through its China-based subsidiary, GM China, and independent Chinese importers.

Thousands more units will be assembled in China by GM's joint venture partners using components and kits made in the United States. The deals have a combined value of 1.3 billion dollars.

"As vehicle ownership grows in China, the luxury segment is beginning to open up," GM chief executive officer Rick Wagoner said in a statement.

"We at GM believe that now is the right time for us to introduce our Cadillac luxury brand to China. Today's comprehensive agreement also indicates the seriousness of our intention to be a major player in China."

GM is also seeking permission for its automotive sales-financing arm, GMAC, to go into business in China. The unit has filed an application for a licence with the China Banking Regulatory Commission jointly with its intended partner, Shanghai Automotive Group Finance Co. Ltd. (SAICFC).

Meanwhile, the Ford Motor Co. said it will begin shipping the first of 5,250 US-built units later this year under newly granted export licences.

David Schoch, Finance Director, Asia Pacific Operations, Ford Motor Company, seated left, and Alvin Liu, Director of Government Relations, Ford China, seated right, sign trade pacts in Dearborn, Mich., Wednesday, Nov. 12, 2003 as Mark Schulz, Ford Motor Co., Group Vice President, Asia Pacific, rear center left, and Chinese vice minister of commerce Ma Xiuhong, rear center right, look on.

The automaker has not decided what models or brands it will supply, but it is "leaning towards sport utility vehicles," said Ford spokesman Chris Vinyard.

The Chinese auotomotive market is booming: last year, motor vehicle sales surged an astounding 60 percent in China, and though the pace has slowed a bit in 2003, the numbers are still growing at an annualized rate of 50 percent.

For the full year, that would mean sales of 4.4 million cars and trucks -- modest by US standards -- but nearly double the 2001 figures.

Few anticipate that torrid growth rate to continue, but barring an economic meltdown, China is expected to soon pass Japan as the world's second-largest national automotive market.

It's all happening "much faster than we'd ever expected," said Jack Smith, the recently retired chairman of General Motors, who was the architect of the automaker's aggressive investment program in China.

GM has an eight percent share of the Chinese market where it benefits from high prices and strong profit margins, according to Merrill Lynch.

Analysts had been expecting the resurgent automaker to announce an increase in capacity, although some questioned the decision to lead its offensive with luxury vehicles.

"Most of the core demand is medium segment," said Ashvin Chotai, director of Asian Automotive Research at Global Insight, "so I don't expect the volume to be that big."

GM executives heralded the export licences as a breakthrough in their quest to conquer the booming Asian market.

"This has created opportunities that were unimaginable a few years ago," said Phil Murtaugh, chief executive officer of GM China Group.

"We have built up the largest product line up in China of any automaker."

Ford Motor Co. is also bullish on the Chinese market, although it was slow to jump in, only beginning production of passenger cars last January after finally landing a joint venture deal with China's second-largest automaker, the Changan Automobile Group.

However, Ford chief executive officer Bill Ford announced plans last month to invest another 1.5 billion dollars in China.

Among other things, that will finance a second assembly plant and boost output from 20,000 to 150,000 vehicles annually.