US troops more hostile with reporters
( 2003-11-13 09:46) (Agencies)
With casualties mounting in Iraq, jumpy U.S. soldiers are becoming more aggressive in their treatment of journalists covering the conflict.
Media people have been detained, news equipment has been confiscated and some journalists have suffered verbal and physical abuse while trying to report on events.
Although the number of incidents involving soldiers and journalists is difficult to gauge, anecdotal evidence suggests it has risen sharply the past two months.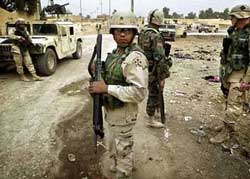 U.S. soldiers hold their weapons at ready during a raid in the suburbs of Baquba, Iraq Nov. 9, 2003. [Reuters]

The president of the Associated Press Managing Editors, an association of editors at AP's more than 1,700 newspapers in the United States and Canada, sent a protest letter to the Pentagon on Wednesday urging officials to "immediately take the steps to end such confrontations."

"The effect has been to deprive the American public of crucial images from Iraq in newspapers, broadcast stations and online news operations," wrote Stuart Wilk, managing editor of The Dallas Morning News.

In October, the Belgium-based International Federation of Journalists, which includes unions representing 500,000 journalists in more than 100 countries, complained of increased harassment of reporters, including beatings of some, since the fall of Saddam Hussein's regime.

"Guidance has been passed to units throughout the coalition explicitly stating that reporters are not to be interfered with or cameras and films seized," said Maj. William Thurmond at the Coalition Press and Information Center.

"Does that take place all the time? No." Thurmond said. "We are aware that individual soldiers have not followed those instructions."

In Washington, representatives of 30 media organizations wrote to the Pentagon expressing their dismay about the harassment of journalists in Iraq. In a letter to Larry Di Rita, acting assistant secretary of defense, the Washington bureau chiefs pointed out that the Pentagon's own guidance to troops says "media products will not be confiscated or otherwise impounded."

The military command says it's working to cut down on incidents by issuing credentials and badges to journalists. This system worked well with embedded reporters during the war, when confrontations were almost unheard of.

But as coalition forces come under increasing pressure from guerrilla attacks ¡ª 37 American soldiers have died so far in November ¡ª signs of stress are evident.

A number of journalists, particularly Iraqis and other Arabs working for foreign media organizations, say they are now routinely threatened at gunpoint if they try to film the aftermath of guerrilla attacks. Some have been arrested and held for short periods.

Sami Awad, a Lebanese cameraman working as a freelancer for a German TV network, said that when his crew tried to check out a report Friday about hand grenades being thrown at a U.S. patrol in Baghdad, they encountered a roadblock at which soldiers told him to go ahead and film.

But as the crew proceeded down the street, more soldiers appeared, threw them to the ground and pointed their weapons at their heads, Awad said.

"They checked our identity badges and then let us go, saying they thought we were with Al-Jazeera," he said. "Each group of soldiers acts on its own, and most of them are very scared and inexperienced."

Al-Jazeera, the Qatar-based television network, has repeatedly been accused by U.S. officials of biased reporting, charges the station denies.

Two weeks ago, coalition troops detained two Al-Jazeera staffers covering an explosion at a police station in western Baghdad on allegations they had prior knowledge of the car bombing. Al-Jazeera dismissed the charges as ridiculous, and the men were later freed.

A TV news producer in Baghdad for a major U.S. television network said his crews had been threatened at least 10 times in recent weeks with confiscation of their equipment. He asked not to be quoted by name because of his company's policy against giving interviews to other media.

Journalists have been shot at several times by U.S. troops, including an incident in August in which Reuters television cameraman Mazen Dana was killed while videotaping near a U.S.-run prison on the outskirts of Baghdad following a mortar attack.

The military later said the troops had mistaken Dana's camera for a rocket-propelled grenade launcher. An investigation concluded the soldiers "acted within the rules of engagement," although the U.S. Army has never publicly announced those rules, citing security reasons.

In September, U.S. soldiers shot up the car of an Associated Press photographer in Khaldiyah after an American convoy was hit with a roadside bomb. The photographer, Karim Kadim, and his Iraqi driver jumped from the car and ran for cover when they saw a tank aim at them. They were shot at with a machine gun as they ran and the car was badly damaged. Neither man was hurt.

In the same incident, a U.S. tank's .50-caliber machine gun fired at AP correspondent Tarek al-Issawi as he viewed the scene from a nearby rooftop. He also escaped injury.

AP filed a protest and U.S. commanders promised to investigate, but no information on the results of the probe has been received.

After a series of missile and rocket attacks in recent weeks on the so-called "Green Zone" in central Baghdad that houses the U.S.-led occupation administration, security precautions there have been tightened to unprecedented levels.

As a result, journalists invited to cover news conferences at the press center are now required to arrive 90 minutes early to be frisked and have their equipment checked by sniffer dogs. But guards can announce without warning that the building is closed, blocking those still waiting in line outside from entering.

"If you don't like the way the military works, I can't help you," Capt. William Pickett told a group of reporters left standing outside the gate after being invited to cover a briefing Monday with Australia's defense minister, Robert Hill.