Ratings to protect young viewers
( 2003-11-13 09:09) (China Daily)
Tsinghua University Professor Yin Hong can still vividly recall his meeting with a father and his son in a cinema earlier this year.
They were watching "Zhou Yu de Huoche (Zhou Yu's Train)," which stars Gong Li, Tony Leung Ka Fai and Sun Honglei.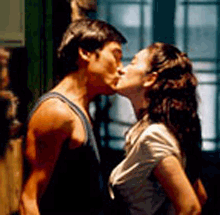 The love scene in the film "Zhou Yu's Train." [File photo]

"Whenever a love scene came on the big screen, the father would ask the little boy, about 12 years old, to shut his eyes. And from time to time, the boy would ask 'Daddy, may I open my eyes?'" recalls Yin, a renowned media and film researcher.

"When the movie ended, I figured the boy at least asked his father the same question six times."

Citing this example, Yin points out: "The absence of a movie rating system in China has resulted in a massive lack of awareness over protecting the rights of minors and younger audiences."

A long overdue, national film rating system is now in the making.

According to Wu Ke, deputy director of the Film Bureau of the State Administration of Radio, Film and Television, the drafting of the film rating system "has entered the substantial stage."

The administration is "soliciting advice and suggestions from all parties concerned, even including legal experts on the protection of the rights of minors," Wu said during the 12th Golden Rooster and Hundred Flowers Film Festival held last weekend in Jiaxing, East China's Zhejiang Province.

In April, a major workshop on the matter was held in Beijing. It offered a chance for experts from the Supreme People's Court, the Supreme People's Procuratorate, and many other related departments and sectors to voice their opinions, Wu said.

"Most participants reached a consensus that a film rating system is vital for protecting the rights of minors and young film-goers," he said. In Wu's opinion, the rating system constitutes a part of the reforms in China's film inspection practices, which is crucial for the further growth of the still fledgling industry.

However, given that China has such a large population with such rich and diverse ethnic, cultural and social backgrounds, the drafting of such a system, which would eventually became a landmark work, will still go through twists and turns, Wu said.

What's going on?

The film rating system is not new to international film producers, as many countries and regions adopted such systems years ago.

But China has yet to establish such a rating system. Over the years, Chinese films have been put into categories according to its subject matters such as rural, military, industry or urban themes.

On March 1, 1989, the former administration of the Ministry of Radio, Film, and Television issued the Circular Concerning the Examination and Rating System for Certain Films. It specified four types of films as "unsuitable for child audiences."

The regulation was first applied to a controversial film entitled "Guafu Cun (Widow Village)," which features some love scenes and nudity.

But this rating system didn't work very well in protecting child audiences at the local level.

Film-goers at that time had few choices as most of the country's cinemas had only one screen. Some of those venues have been revamped only in the past four or five years, as China followed its World Trade Organization (WTO) commitment to allow the influx of private and some overseas investment into the cinema sector. Some unscrupulous film distributors and exhibitors even wrongly label some films as "unsuitable for child audiences" in a bid to attract curious viewers.

In early 1999, the importing and screening of the Hollywood film "Saving Private Ryan" became a blazing fuse for the first major public debate over the need to establish a film rating system. Media reports revealed that many Chinese filmgoers were shocked and some even felt sick for days after watching the film. Similar reactions were also reported when some domestic films which contain scenes of extreme violence were shown.

Take the 1996 film "Nanjing Datusha (Nanjing Massacre)" for instance.

Many middle school students, who were organized and led by their teachers to see the film, felt sick. Some reportedly had nightmares even days after watching the film.

Almost all of the imported films such as "Saving Private Ryan," "Bridges of Madison County," "Spiderman" and "The Bone Collector" were sharply criticized for alternately showing extreme violence, graphic love scenes and horrific subject matter.

These films were rated "PG" for "Parental Guidance" in the United States.

Professor Yin Hong pointed out that those films were shown in Chinese cinemas without any disclaimers, especially for teens or younger children, because China does not have a film rating system.

Public outcry

The public has since begun to call for the establishment of such a system.

In 2001, Wang Xingdong, a member of the National Committee of the Chinese People's Political Consultative Conference and a renowned screenwriter, put forward a draft resolution on the establishment of a film rating system in China.

Wang outlined the factors that create "an urgent need to draw up a film rating system." These factors include the rapidly developing society, thriving market economy, largely diverse needs and tastes for different film products.

On top of all this is the need to revitalize the Chinese film industry and widespread concern over the protection of minors' rights, according to Wang.

In February of this year, 64 Chinese filmmakers signed a joint proposal entitled "China Must Have Its Movie Rating System" in Beijing. In March, Wang Xingdong put forward his draft resolution on the establishment of a "Film Product Rating System" again during the CPPCC's annual session, invoking an explosive response from within the film industry, the media and the general public.

In June of this year, the State Administration of Radio, Film and Television gave Wang Xingdong an official reply, saying that "preliminary research is under way for drafting a film rating system with Chinese characteristics."

"In a market economy, any film must have its specific target audience. It is too demanding for the filmmakers to produce one that caters for audiences of all age groups," said Feng Xiaogang, newly elected vice-chairman of the Chinese Film Directors Association and one of the most successful filmmakers in China.

According to Feng, the proposed movie rating system will have at least two scales with the age of 16 as a dividing line, which is required by the nation's Law of Protection Over Juveniles.

"Without such a system, Chinese film artists and investors alike have bumped into many unpredictable, man-made difficulties and risks," Feng said.

A movie rating system can make it easier for Chinese filmmakers to decide how far they can go when shooting scenes with love, violence or horror and to bring out their best to cater for specific target audience groups, said director Zhang Yuan.

"Chinese parents often find it hard to prevent their children from being negatively affected mentally and emotionally when they watch films," said Wang Liqun, father of a 15-year-old boy and renowned psychologist in Beijing.

The marketing and promotion of good films must be complemented by good film policies and relevant legal basis such as a movie rating system, said Federation of Hong Kong Film Workers Chairman Ng See Yuen.

With rapid economic, social and technological developments, such as the boom of the Internet, "children today are much more precocious than we can imagine, so our thinking must keep up with the times," said Ng.

Concerns vary

While the draft is taking form, a number of veteran filmmakers stress that caution and care are needed to formulate such a system.

Veteran actor and director Jiang Wen said that film insiders must have an open mind for building a prosperous film industry. "It is too early and meaningless to discuss what are good or bad films, when the homegrown film Chinese audiences can choose from is so few," Jiang said.

Some critics say that the rating system, if poorly executed, could be misused by film distributors and exhibitors to promote a certain type of films. Some other films which may enjoy a narrower target audience will suffer more for lack of box office promotion.

A few people have expressed their concerns that the implementation of a film rating system may unleash more erotic films like those in some Western countries, and affect the ethics and moral integrity of Chinese society.

But Professor Yin believes that, given China's unique cultural and social traditions, such a harmful tendency will not be able to take a foothold in the Chinese film market.

The concerns are unnecessary, Yin said.

A film rating system doesn't open a can of worms because it does not mean filmmakers can shoot any kind of films they want, Wu said. Any film, be it domestic or imported, must still first go through a careful pre-screening before release.

Li Ershi with Beijing Film Academy said: "The key point is how the system is implemented in the real world. The fear of its negative effects does not negate the necessity of formulating such a legal framework.

"I believe China can create a rating system with its own characteristics which is suitable for its social conditions," Li said.

Director Feng Xiaogang said: "We call for the establishment of a rating system simply because we have to learn to play the game.

"Think about China's WTO entry. Think about the unstoppable trend of globalization and the amounting volume of cultural and entertainment trade between China and foreign countries.

"It is a matter of playing the game if we want to be part of the global market and global economy."