Construction dates set for Olympic venues
( 2003-11-13 00:03) (China Daily)
Construction of the shooting range and velodrome for the 2008 Beijing Olympic Games will start next month and run until the first half of 2006, Beijing Olympic organizers said Wednesday.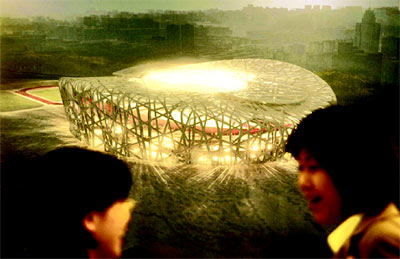 The design for the State Stadium resembles a giant bird's nest. [newsphoto.com.cn/file]
The construction work will mark the start of a massive Olympic building programme which will produce the 37 gymnasiums and stadiums and 59 training venues required during the Games.
The shooting range and velodrome will be built alongside the National Swimming Centre and the National Stadium, also due to start construction later this year.
The 7.5-hectare shooting range in Shijingshan District in western Beijing will be able to hold 9,000 spectators. The velodrome in the same district, is expected to seat 6,000.
The Architectural Design and Research Institute at China's prestigious Tsinghua University is responsible for the designing of the shooting range, and the Guangdong Architectural Design and Research Institute for the velodrome, said Liu Zhi. Liu is deputy director of planning and construction for the Beijing Organizing Committee for 2008 Olympic Games.
He said the designers were chosen from 11 candidates through an international bid and had produced the most advanced international designs.
"We are so well-prepared that we can comfortably start construction on time,'' Liu said.
The State General Administration of Sports, the national governing office for sports, will own and manage the venues. The two venues, funded by the central government, will be the training bases for national teams after the Olympic Games.
The funds for many of the other venues will be raised through corporate bids and tenders.
As of Sunday, management contracts had been signed for six venues -- the National Stadium, National Gymnasium, Olympic Aquatic Park, Convention Centre, and the Olympic village and Wukesong Cultural and Sports Centre.
The commmittee hopes to raise 17.4 billion yuan (US$2.1 billion) or 85 per cent of the total budget for the six venues from bidders seeking ownership rights.
The organizing committee also aims to find its first main sponsor by the end of the year.
Yuan Bin, deputy director of the committee's marketing department, said firms have responded enthusiastically to the launch of the marketing plan on September 1.
"I am very confident that the sponsorship will be remarkably valuable,'' Yuan said.
The committee has listed automobile, banking, fixed telecommunications, and mobile communications as the four areas where they are most likely to find their first sponsor.